Wednesday, May 14, 2014
Lewis Earns Second Dudley-Eshbach Study Abroad Scholarship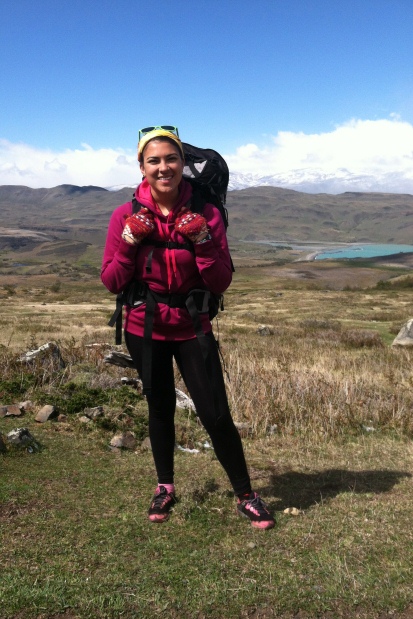 SALISBURY, MD---Salisbury University junior Paige Lewis never planned to spend a whole year in Latin America.

The Myersville, MD, native thought she would spend last fall in Chile and then return to the United States. That plan, however, quickly grew to include her studying in Ecuador this spring, as well.

Lewis was selected as the recipient of the second annual Dudley-Eshbach Study Abroad Scholarship. The $1,000 scholarship was created by SU President Janet Dudley-Eshbach to promote study abroad opportunities for SU students in Latin America.

"My experiences living and studying in Mexico were transformational," said Dudley-Eshbach, a Latin American literature and Spanish-language scholar who earned her Ph.D. from El Colegio de México. "My goal with this scholarship is to facilitate in some small way a similar opportunity for Salisbury University students. The experience of being immersed in another culture is extremely valuable."

Studying in Latin America has bolstered Lewis' experiences as a Spanish major and led her to consider adding a second major of international relations and a minor in Latin American studies. The opportunity to explore two different South American nations also has provided her some unique insights.

"These have been two completely distinct, but equally amazing experiences," she said. "I've learned that just because two countries are on the same continent and speak the same language, that doesn't mean that they are similar."

Lewis has lived with local host families in Chile and Ecuador. The opportunity to speak Spanish on a regular basis, while a challenge, quickly became one of her favorite parts of studying abroad.

"It was hard at first because Chileans speak very fast and use a lot of slang," she said. "Now I understand the majority of what is said to me and I feel very confident in my Spanish-speaking abilities."

Describing her growth while in Latin America, Lewis said, "I've learned that you can get more homesick for another country than for your own. I've learned that you can have three families that you love unimaginably, and who love you. You can have six sisters, two dads, three mothers, a brother and an abundance of extended relatives who all care about you, even if they're not in the same country. I've learned that every experience should be taken, whether it is fishing in a mountain pond, swimming in an Amazon waterfall, or just sitting at dinner with your family and appreciating being able to communicate in a language completely different than your own."

Lewis and others studying abroad are part of U.S. President Barack Obama's "100,000 Strong in the Americas" initiative. The goal of the program is to send 100,000 students from the U.S. to study in Latin America, and vice versa, to foster a greater international exchange of students who are future leaders and innovators. For more information, visit www.100kstrongamericas.org.

To apply for the Dudley-Eshbach Scholarship, students must be in good academic standing and progressing toward a major or minor in Spanish or Latin American studies. A minimum 3.0 cumulative GPA and demonstrated financial need are required. An application and two recommendations are due July 1 for the upcoming academic year.

For more information visit the SU Center for International Education website at www.salisbury.edu/intled/studyabroad/financialAid/JDEscholarship.asp.