Friday, February 29, 2008
Johnson, Kane Earn 2008 Tull Distinguished Faculty Awards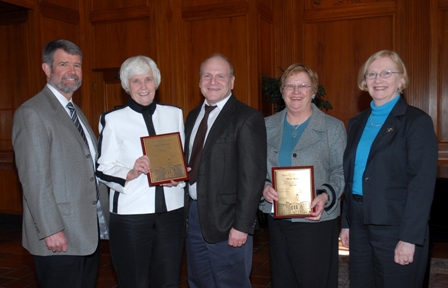 From left: Henry Hanna III, chair of Salisbury University's Campaign 2012; Dr. Karin Johnson; Dr. Michael Folkoff, interim dean of the Richard A. Henson School of Science and Technology; Mary Kane and Dr. Susan Battistoni, chair of the SU Nursing Department.
SALISBURY, MD---Mary Kane and Dr. Karin Johnson have been with the Salisbury University Nursing Department since its inception.
More than three decades later, they are part of another SU first—recipients of the inaugural Lucy Tull Distinguished Faculty Award for excellence in nursing education and commitment to regional healthcare.
"Professors Johnson and Kane exemplify the finest traditions of academic excellence," said Dr. Susan Battistoni, Nursing Department chair.
"Johnson was instrumental in the founding and ongoing success of the graduate program in Nursing at SU. She is a health scientist who currently works with the National Institutes of Drug Abuse in the Division of Clinical Neuroscience and Behavioral Research on issues related to developmental effects of prenatal drug use and fetal programming of obesity. She continues to be an outstanding teacher, scholar and role model for faculty and students alike.
"Kane is a member of the charter faculty of the undergraduate nursing program. In addition to excellence in teaching and advising, she has had a long career as an advanced practice nurse with patients who have psychiatric and mental health problems and as a family nurse practitioner.
"Her current research focuses on the physical and mental health needs of incarcerated women. Her wisdom and excellence have been mainstays for the ongoing development of the Nursing Department."
While technological advances have played a part in the need for additional healthcare training, Kane and Johnson said the expectations of nurses in the 21st century are much more demanding than they were in the '70s.
"There is tremendous technology today, but there is also more need for expertise in judgment—not only using the technology, but helping patients decide which treatments are right," said Kane.
"Nursing has become much more complex in terms of what students need to learn to practice, and that has greatly ratcheted up what we need to teach," said Johnson.
Kane said she likely would use her $3,000 award for professional education. Johnson said much of hers likely would help pay expenses for her recent study abroad trip with 15 SU nursing students and faculty to Tanzania, where they worked on an HIV/AIDS service project teaching prevention and learning about the challenges faced by people living with HIV and AIDS.
"You couldn't teach that in a classroom," she said. "It wouldn't be the same. You try to teach students what compassion means, then you put them in a place where they have to feel it."
Another trip to Africa is planned in early 2009.
The awards are made possible by a $5.3 million bequest from the estate of the late Lucy Tull of Salisbury—the largest single gift by an individual donor in SU history. Some $4.8 million from the gift is earmarked for Nursing Department scholarships for Lower Eastern Shore students, while the other $500,000 created the Lucy Tull Nursing Department Enhancement Fund for faculty development and departmental equipment and supplies.
"Mrs. Tull was keenly concerned with health care issues and the shortages of well-educated and caring nursing professionals. We thank you for your efforts to combat these problems and wish you well on all your future endeavors," Henry Hanna III, chair of SU's Campaign 2012 capital fund drive, told Kane and Johnson during the ceremony at which they received their awards.
For more information call 410-543-6030 or visit the SU Web site at www.salisbury.edu.