Monday, March 12, 2012
Historian Kimmel Speaks on War of 1812 Thursday, March 29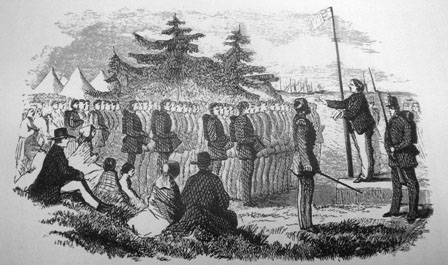 Artist's rendering of Joshua Thomas addressing British troops on Tangier Island, VA.

SALISBURY, MD---To many Americans, the War of 1812 was the second War of Independence.

Much of the action took place in the Chesapeake Bay region, including the famed battle at Fort McHenry, which inspired Francis Scott Key to write The Star Spangled Banner. But what about the rest of Maryland, as well as adjoining states?

Maryland Park Service historian Ross Kimmel discusses the contributions of these areas during "The Eastern Shore and Its Role in the War of 1812" 7 p.m. Thursday, March 29, at the gallery of Salisbury University's Edward H. Nabb Research Center for Delmarva History and Culture, 190 Wayne St.

Kimmel explores the importance of Chesapeake Bay ports such as St. Michaels, MD; Lewes, DE; and Tangier Island, VA, in the conflict between Britain and the United States. He also speaks on the contributions of notable Eastern Shore figures including Maryland Governor Levin Winder and Joshua Thomas, the famed "Parson of the Islands."

Sponsored by the Nabb Research Center, admission is free and the public is invited. For more information call 410-543-6312 or visit the center's Web site at http://nabbhistory.salisbury.edu.