Friday, June 5, 2009
Healthy U of Delmarva Names 2009 HUEY Award Winners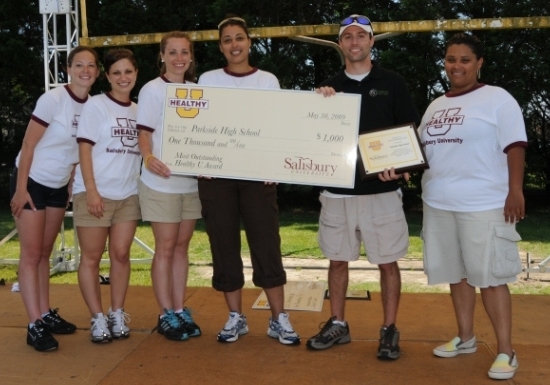 Pictured (L-R) are Melissa Schumaker, Ashley Mocella, Sarah Flynn, Adrienne Sterling, Joe Halowich and Dawn Price.
SALISBURY, MD---During its inaugural Celebration of Health at Salisbury University, Healthy U of Delmarva awarded $5,000 to local individuals and groups who strive to make their community—and themselves—healthier.
The winners of the 2009 HUEY Awards are: Dot Baker and Bev Elzey for healthiest individuals, Salisbury Middle School for education, St. Stephens United Methodist Church for house of worship and Data Services, Inc. for business/corporation. Parkside High School won Most Outstanding.
Baker, of Delmar, DE, is dedicated to spreading the word about healthy living. She established a health outreach ministry at Trinity United Methodist Church in Salisbury to provide health-related resources and education to the congregation and community. "I strongly believe in wellness and healthy lifestyle choices for people of all ages," she said. "I try to model optimal personal, physical activity and spiritual choices."
A Salisbury resident, Elzey got involved with Healthy U at its inception some seven years ago. "I love to walk," she said, adding that she also hits the boardwalk with her husband, rides a stationary bike, and even switched from a Tastykake breakfast to a cup of Cheerios. But her commitment doesn't stop there. A program coordinator for at-risk students, she's one of the many staff members at Salisbury Middle School who is dedicated and committed to embracing healthy initiatives.
"It's an everyday topic," she said. "This year we started a pedometer challenge. The goal was to get off your seat and on your feet, and keep moving. We recorded our steps every day and winners earned monthly prizes."
The HUEY award-winning middle school also has an e-newsletter with weight loss and meal tips, and healthy homemade staff lunches. In the past, soda machines were removed from the cafeteria to encourage students to choose healthier options such as juice and milk.
St. Stephens United Methodist Church in Delmar, a three-time HUEY Award winner, encourages its congregation to exercise through a "Walking Across America" program. Coordinator Peggy Moore ('63) said more than 151,000 miles have been charted since February 2006. The church also purchased a Wii Fit gaming system and hosts competitions, and is incorporating soccer and other sports into its summer bible school.
Data Services earned its HUEY for its strong commitment to healthy living and Healthy U. Not only is each employee a registered Healthy U member, but the company also allows each employee a paid, half hour daily exercise break. "We've kind of really embraced healthy living; it's part of our routine now," said Margaret Monson, who partnered to create a wellness committee for the company.
Finally, Parkside High School was named 'Most Outstanding" for its wide range of health-related activities. A new instructional leadership team coordinates wellness throughout school, while student and staff afterschool clubs provide outlets for physical activity such as volleyball, basketball and ping pong. Students also volunteered at Wicomico County's Health Expo and SU's Celebration of Health.
In addition, Parkside's "Trek to the Pacific Coast" project surpassed last year's mileage totals, school improvement teams are examining wellness, a monthly newsletter highlights health-related goals and achievements, and its PTA sponsored a 5K run/walk.
"Healthy U really laid the framework for what we've done; we just keep building and building on our initiatives," said health teacher Joe Halowich. Beyond Healthy U, Parkside garnered the Blue Apple Health Education Award from the American Association of Health Education, making it one of the Top 10 programs in the U.S.
Second place HUEY Award winners were Wesley Temple United Methodist Church, Chesapeake Utilities and Peninsula Regional Medical Center. For more information call 410-742-9202 or visit the Healthy U Web site at www.healthyudelmarva.org.