Friday, April 7, 2017
Guerrieri Art Space Presents 'The Merkeba Field' Exhibit April 28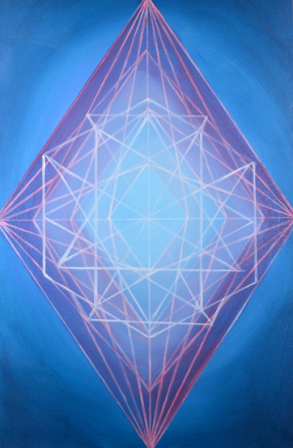 SALISBURY, MD---The Guerrieri Student Union Art Space hosts the exhibit "The Merkeba Field" by Salisbury University sophomore B.F.A. major Natalie Fein through Friday, April 28.

Fein, from Rockville, MD, has studied art from sculpture to fine art to metal working, as well as landscape gardening. She hopes to work alongside organic farms while continuing to build her artistic portfolio.

"Interweaving the connection between the natural, more emotion driven energy flow of creation and its mathematical core is always a relationship I try to portray through my art," she said. "Everything in life can be broken down geometrically. Even the human body, in all its seeming flaws and irregularities, is in truth a perfect radiating beam of light, one that makes up the conglomerate whole when in union with every other individual beam of light.

This light body, per se, can be enhanced, and activated more efficiently when there is an awareness of the Merkaba. The Mer (light) Ka (spirit) Ba (body), counter rotating double tetrahedron, spins to expand and protect the light body and physical body. When used earnestly, it can be a powerful tool in our soul evolution journey, raising our consciousness, consequentially raising the collective consciousness. It is, in essence, our light ship. My work plays with the sacred bond between geometry and the raw emotional nature of this existence.

"The more naturalistic side of my art shows the dualistic qualities of the world. I believe our universe is constantly seeking balance and stillness- equilibrium of polarities which can be represented in almost never-ending possibilities of 0 and 1.

"I personally seek this calm and oneness through the physical and emotional expression of creating visual pieces or art that portray balance and symmetry. The contrasts of the world push me to dig deeper and keep deriving real connections from our symbolic third dimension in order to do my part in leading in the new generation of receptivity. Sacred bonds are key to oneness."

The Art Space is located in the Guerrieri Student Union's second-floor concourse. Admission is free and the public is invited. For more information call 410-543-6247 or visit the Art Space website at http://www.salisbury.edu/guc/artspace.