Friday, September 4, 2009
Groth Earns 2009 Distinguished Faculty Award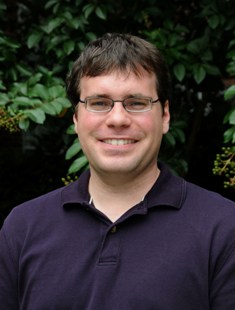 SALISBURY, MD---On campus, Dr. Randall Groth of Salisbury University's Education Specialties Department has produced new curriculum and helped compile a report for the National Council for Accreditation of Teacher Education that led to national recognition of SU's mathematics education program.
Off campus, he has worked with low-income public school students, including the GEAR-UP program, and was significantly involved in more than $2 million in partnership grants with local schools, all while teaching nine courses at SU and online for a local school district.
During the same period he has published more than 20 articles in peer-reviewed journals.
For these and other accomplishments, Groth has been named SU's 2009 Distinguished Faculty Award winner.
"One would think I'm describing a veteran member of our faculty, but Dr. Groth has only been in higher education for six years," said Dr. Nancy Michelson of the Education Specialties Department, who chaired this year's award committee.
The award is presented annually to a faculty member who demonstrates outstanding achievement in three areas of faculty work: teaching, service and professional development, including research. According to those who know Groth's work best, he shines in all three, and then some.
Dr. Dennis Pataniczek, dean of the Samuel W. and Marilyn C. Seidel School of Education and Professional Studies, commended his "stellar record of service … He selects his committees wisely, targeting those to which he can make the best contribution. He has assumed some of the most challenging and labor-intensive committee responsibilities in the department."
Locally, he works with educators in Wicomico County Public School's mathematics programs and is currently writing a textbook.
"I cannot stress enough how much we appreciate having such a knowledgeable and willing partner," said Bonnie Ennis, Wicomico County Public Schools mathematics coordinator.
"His courses are research-based, with a healthy balance between theory and practice," said Dr. Nomsa Geleta, chair of the Education Specialties Department, adding that he is noted for the "depth of his reflections on teaching."
According to one student, "his course was one of the most effective and applicable of those I took for my master's."
In addition to his classroom work, Groth has served on the Faculty Senate and the Institutional Review Board. Complementing his publications in more than a dozen peer-reviewed journals from six different countries, he has presented at nine national and international conferences.
His work from four of those conferences subsequently has been included in their published proceedings. He also reviews for six journals and is the associate editor of Statistics Education Research Journal.
Groth earned his Ph.D. in mathematics education from Illinois State University, M.S. in mathematics education from the University of Wisconsin-Oshkosh and B.S. in mathematics from Marquette University, WI. He was a high school mathematics teacher in Wisconsin for four years prior to coming to SU in 2003.
Members of the award committee included Michelson, Susan Brazer of Blackwell Library and Drs. Craig Clarke of the Psychology Department, Frank Shipper of the Management and Marketing Department, and Dr. Judith Stribling of the Biological Sciences Department.
For more information call 410-543-6030 or visit the SU Web site at www.salisbury.edu.