Griffin Named Graduate Studies and Research Dean
Tuesday July 27, 2010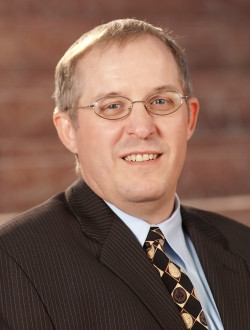 SALISBURY, MD---Salisbury University's new dean of graduate studies and research brings expertise from the Middle East to the Eastern Shore.
Previously at the Qatar branch of Texas A&M University, Dr. Clifton Griffin stepped into the newly created position at SU this month. He will oversee post-baccalaureate programs and research opportunities.
"Dr. Griffin's wide range of experiences at universities in the United States and in the Persian Gulf will greatly benefit Salisbury University," said Dr. Diane Allen, provost and senior vice president of academic affairs at SU. "His demonstrated leadership in program development is especially important as we work to expand master's and doctoral degree offerings."
Griffin will guide the implementation of SU's first doctorate in nursing practice, which is currently pending approval. He also will build an administrative structure for SU's 14 master's and five certificate programs, and extend education to meet workforce and community needs.
His multi-faceted position also involves taking over University Research Services from director Betsey Corby, who retired in spring 2010. In this role, he will support faculty grants, cultivate relationships with external funding sources, and explore funding resources for graduate students.
For Griffin, the most appealing aspects of the campus he now calls home are a "familial energy" and "sense of pride" coupled with the desire to take programs to the next level.
"I start my time at SU by listening and determining how I can best enable and empower faculty, graduate students and programs to grow and improve," Griffin said. "It is important to preserve our dedication to the undergraduate experience while building such programs. I believe we can help shape a new identity for graduate studies at SU through improved marketing, recruiting and admissions processing strategies."
For the past two years, Griffin directed research and graduate studies at the Qatar campus. The new dean also brings 14 years experience from the main campus of Texas A&M, ranked among the nation's top 20 research universities. There he managed graduate fellowship and mentoring programs. He earned his Ph.D. from Texas A&M University, and his M.S. and B.S. degrees from Delta State University in Mississippi.
For more information call 410-543-6030 or visit www.salisbury.edu.