Friday, August 1, 2008
Givens Elected SU Foundation Chairman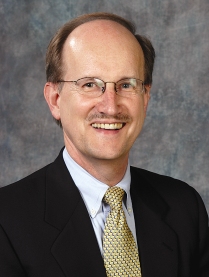 SALISBURY, MD---Rick Givens of Dover, DE, is the recently elected chairman of the Salisbury University Foundation, Inc.
Givens has been a member of the foundation board since 2002, serving as its treasurer from 2005-2008, and the immediate past chair of its public radio committee. He replaces outgoing chairman Edward M. Thomas, who led the foundation for four years. Thomas will continue to serve on the board.
Givens is a champion of campus enhancements and outreach through SU's Campaign 2012. He hopes to maintain the strategies that have helped the foundation meet its fundraising—as well as friend-raising—goals.
"Following the fine example of my predecessors, I look to carry forward the mission and vision of the foundation and continue to build on its successes," he said. "SU is a fantastic institution; it's a great place. There's tremendous leadership at all levels, and I'm privileged to serve in this capacity."

Givens is a two-time graduate of SU, earning his B.S. in business administration and B.A. in liberal studies/music. He is a retired senior fiscal administrative officer for the State of Delaware Treasurer's Office and former administrative officer in the office of the Delaware Insurance Commissioner. He serves on the boards of the Biggs Museum of American Art, the Smyrna Opera House, and volunteers as a public school student mentor with Big Brothers/Big Sisters of Delaware.

"We are so lucky to have the leadership of Mr. Givens," said Kim Nechay, assistant director of the SU Foundation. "His fiscal background, creative energy, dedication and love for SU are a perfect mix for a chairman of our board at this time."

Currently, the foundation manages more than $52 million in assets for the benefit of SU. Each of the institution's four schools is permanently endowed, a rarity in higher education.
In 2005, the foundation began the public phase of its Campaign 2012 initiative with a goal of raising $30 million for scholarships, capital projects, fine arts enhancements and campus outreach programs. The foundation is expected to far exceed that goal by the campaign's end.

The Salisbury University Foundation, Inc. was created in 1973 to accumulate funds by gift and investment and to foster, encourage and enrich the activities, educational programs, athletics and scholarships of SU. It is the intent of the foundation to promote, sponsor and carry out educational, scientific and charitable programs for the benefit of SU and its students.

For more information call 410-543-6030 or visit the SU Web site at www.salisbury.edu.