Four Perdue Faculty Present at 2007 Pacific Rim Conference
Tuesday February 13, 2007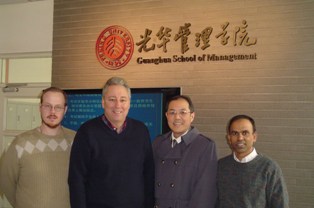 From left: Drs. Dustin Chambers, Tylor Claggett, Ying Wu and Shekar Shetty recently attended the 2007 Pacific Rim Conference in Beijing, China.
SALISBURY, MD---Research by faculty in Salisbury University's Franklin P. Perdue School of Business translates worldwide.
Four Perdue faculty recently attended the 2007 Pacific Rim Conference in Beijing, coordinated by Western Economic Association International and the Guanghua School of Management at Beijing University. They are: Drs. Dustin Chambers, Tylor Claggett, Shekar Shetty and Ying Wu.
Wu, an associate chair of the Conference Program Committee, organized two sessions including eight papers with authors from seven universities in China, Singapore and the United States, including Salisbury. Other associate chairs included Dr. James Heckman, Nobel Prize winner, of the University of Chicago.
"There was an impressive group of people at this conference, and the Perdue School was proud to have its representatives among them," said Dr. William Moore, Perdue School dean. "SU was prominently featured in the program, and our faculty did an excellent job of presenting information to the global market."
Other universities with faculty's papers presented at the sessions organized by Wu were Texas A&M, Texas Southern Xiamen University and Dongbei University of Finance and Economics, Hong Kong Polytechnic University and Nanyang Technological University, among others.
Wu chaired the session "Inequality, Poverty and Money in China's Development." During this session, Chambers presented his paper "The Impact of Past Growth on Poverty in Chinese Provinces," co-authored with Wu and Dr. Hong Yao of SU's Economics and Finance Department.
Claggett chaired the session "Issues in Financial Economics." He presented his paper "International Diversification of the Lower 400 Firms of the S&P 500 Index," co-authored with Dr. Danny Ervin of the Economics and Finance Department.
Shetty presented his paper "Further Evidence on Insider Trading and the Merits of Securities Class Actions," co-authored with Zahid Iqbar and Kun Wang.
While in China, the faculty toured several traditional sites, including the Great Wall, Summer Place and Forbidden City. The Perdue School maintains a relationship in China, where students have the opportunity to study abroad at Dongbei. Conversely, Dongbei students are able to study in the United States at SU.
The bond between the two countries may soon strengthen even more. Moore plans to speak with representatives from the City of Salisbury to form a sister city partnership with Dalian, a port city located in a high-tech region of China.
For more information call 410-543-6030 or visit the SU Web site at www.salisbury.edu.
SHARE