Tuesday, December 16, 2014
Four Earn 2014 Faculty Appreciation Awards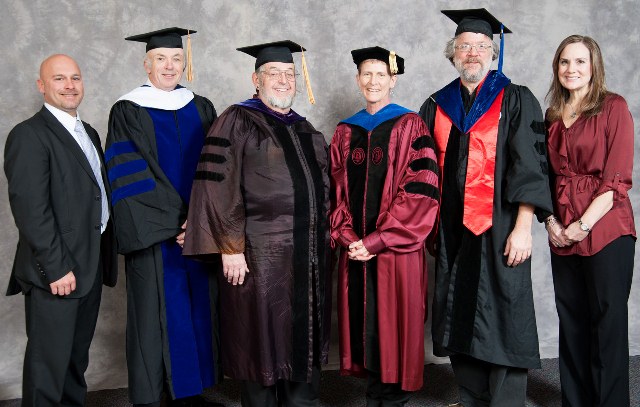 From left: Jayme Block, SU director of alumni relations and gift development; Drs. John Wenke, Fred Kundell, Karen Papke-Shields and Ernie Bond; and SU Alumni Association President Cynthia Phillips.

SALISBURY, MD---This year's Salisbury University Alumni Association Faculty Appreciation Award winners are "informative," "helpful," "friendly" and "influential," according to their former students.

The SU Alumni Association honored four with the accolade during SU's 89th-year Fall Commencement. They include Drs. John Wenke, English, of the Charles R. and Martha N. Fulton School of Liberal Arts; Fred Kundell, Chemistry, of the Richard A. Henson School of Science and Technology; Karen Papke-Shields, Information and Decision Sciences, of the Franklin P. Perdue School of Business; and Ernie Bond, Teacher Education, of the Samuel W. and Marilyn C. Seidel School of Education and Professional Studies.

"Each year we receive a number of nominations from our alumni," said Cynthia Phillips, alumni association president. "With so many deserving faculty, it's not always easy for the committee to select recipients. These faculty members represent the outstanding contributions to the quality education our graduates receive."

Wenke's "true passion for literature inspires his students to a higher level of thought and analysis," said one former student. "Not only are his lectures informative and thought provoking; he also encourages his students to find their own truth within the literary work. … Professor Wenke helped ignite the spark that led me to find my path as a middle school English teacher. His passion is contagious and will continue to inspire his future students as it has done for me."

Kundell "was very friendly and helpful when I first visited and then arrived at Salisbury State University as a freshman," said one alumnus. "As a professor, his lessons were difficult, but he expanded my ability to think and reason, and to understand the world in terms of chemistry." Another former student noted, "Dr. Kundell offered great career advice and gave me the confidence to take big steps into the world of chemistry. Without his help, I would not be where I am today."

One of Papke-Shields' former students recalled signing up for her class simply to fulfill an elective requirement. "However, through her passion for the topic, I became intrigued and learned to love the course," the student said, adding that this led to taking the advanced course with Papke-Shields, as well. "After graduation, I enrolled in the inaugural TERP10 course at SU. After this intense, two-week course … almost everyone in the class obtained their SAP certification, in part due to the determination she had to help us understand the difficult content."

Bond's influence also was far-reaching. "I had Dr. Bond for Adolescent Literature my senior year at SU," said one alumnus. "His love of literature was obvious in every class. I'm now in my ninth year of teaching, and I still use the resources, novels and notes that Dr. Bond provided 10 years ago in class! … His enthusiasm, love of books and passion for teaching were a major influence on my decision to become a sixth-grade language arts teacher."

For more information call 410-543-6030 or visit the SU website at www.salisbury.edu.