Forte Named Maryland Social Work Educator of the Year
Monday March 29, 2010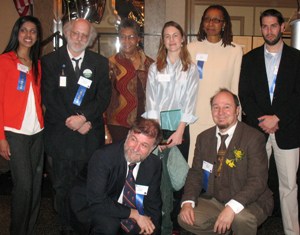 Top row, from left: 2010 B.S.W. Student of the Year Christine Anchan, Social Worker of the Year Jeff Singer, Lifetime Achievement Award winner Jean Tucker-Mann, M.S.W. Student of the Year Sara Montag, Field Instructor of the Year Carrie Vick and Public Citizen of the Year Tzviel Blankchtein. Front row, from left: Public Citizen of the Year Vincent DeMarco and Dr. James Forte, Social Work Educator of the Year.
SALISBURY, MD---For Dr. James Forte of Salisbury University's Social Work Department, being an educator is more than just a profession-it's a passion.
For his more than three decades of passionate commitment, the National Association of Social Workers-Maryland Chapter has named Forte its 2010 Social Work Educator of the Year.
Forte first began teaching social work as a field instructor in 1978 for Virginia Commonwealth University, where he eventually became an adjunct faculty member. He came to SU in 2003, following a 13-year career as an associate professor at Christopher Newport University in Newport News, VA.
He is well known in social work education circles as the developer of the "Models, Metaphors and Maps" approach to teaching theories, which has gained popularity in many college classrooms. The method breaks down complex social work theories into three parts: a discussion of the theorist (model), a real-world metaphor for the way the theory works and a visual chart or map to help students further comprehend the theory.
"They seem to remember the theories a little better and be able to apply them a little better that way," he said.
At the scholarly level, Forte has published two social work textbooks, including one on the "Models, Metaphors and Maps" approach, as well as 34 articles and book chapters in the past 18 years. A third book, for social work educators on how to teach students to best put theory into use in real-life situations, is expected in 2011.
Forte said much has changed in social work in the past three decades, including the way it is taught. SU's program incorporates distance learning (classes taught via real-time streaming video) for students in other parts of Maryland, an application Forte said was unfathomable when he was a student.
More students today are studying social work right out of high school without first gaining life experience, and educators now must strive to teach spiritual practices that fit a plethora of diverse backgrounds, which can prove challenging at times, he said. However, perhaps the most drastic change has been the diversification of social work itself.
"There has been a knowledge explosion" in recent years, Forte said. While only a handful of theoretical perspectives dominated the field three decades ago, it has expanded to include as many as 40 dominant theories today.
At SU, Forte has chaired several committees within the Social Work Department and serves as a faculty advisor and mentor. Beyond the classroom, he is also well known in the Salisbury community. He has consulted for Salisbury Neighborhood Housing and worked with the Wicomico Partnership for Families and Children.
Nationally, he is a member of many professional organizations, including the American Association of University Professors, the Association for the Advancement of Social Work in Groups and the Social Welfare Alliance.
This award is not the first time Forte has been honored for his work in the field. He is a past recipient of the Virginia Social Work Educator Award and the Christopher Newport President's Award for Outstanding Teaching.
For more information call 410-543-6030 or visit the SU Web site at www.salisbury.edu.