Saturday, October 8, 2011
Festive Ribbon-Cutting Marks Sea Gull Square Grand Opening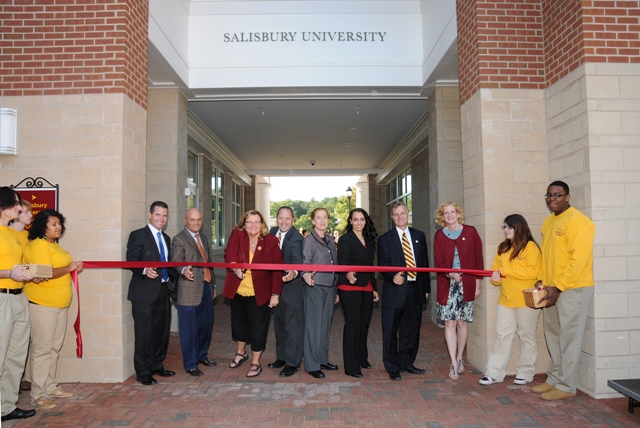 From left: Rinnier Development Company President Blair Rinnier, Salisbury University Foundation Chairman Charles Capute, SU President Janet Dudley-Eshbach, Housing and Residence Life Director Dave Gutoskey, Vice President of Administration and Finance Betty Crockett, Student Government Association President Jessica DiPietro, Interim Vice President of Student Affairs Dane Foust and former Vice President of Student Affairs Ellen Neufeldt.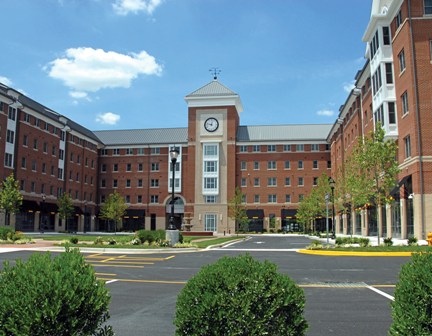 SALISBURY, MD---Celebrating with families and friends, Salisbury University officially cut the ribbon today on its largest building and newest residence hall. The 230,000-square-foot Sea Gull Square (SGS), a mixed-use development with retail businesses on the ground floor servicing the campus and greater community, provides a striking gateway for visitors from the south.
The $45 million complex opened its doors to some 600 students this fall and, as predicted, is a hit with residents, said Dr. Dane Foust, interim vice president of student affairs. Nearly twice the size of Holloway Hall (SU's oldest building and the first to house students), SGS offers apartments and amenities rarely seen in traditional dormitories.
"Sea Gull Square is the third in a triptych of buildings (the others are Perdue Hall and the Teacher Education and Technology Center) which have transformed the University's profile along Route 13," said President Janet Dudley-Eshbach. "Collectively, they demonstrate the potential for an 'extreme makeover' of an urban corridor. As one observer noted, the 'face of the University is bold, visually coordinated and fresh.' The power of good architecture and thoughtful planning should not be underestimated.
"Sea Gull Square represents true partnership and cooperation: The SU Foundation, Inc. was visionary in its purchase of the original property. The construction of the first residence hall on main campus in two decades enjoyed the support of the University System of Maryland. The Main Street style was possible because of collaboration with Rinnier Development Company in partnership with R. Clayton Emory. It may take a village to raise a child … and a residence hall.
"Planning and collaboration are easy to talk about, but not necessarily easy to achieve. Today, I congratulate all the unsung heroes of this project which is impacting student and community life, and contributing to the vitality of this University."
From the highway, visitors are welcomed by Sea Gull Square's eye-catching illuminated clock tower that can be seen from as far away as the University's athletic complex, located across Route 13. Below are an inviting fountain and green space. In progress is a sculpture of seagulls in flight by Eastern Shore artist Will Hemsley, a gift of the Rinnier and Emory families. The approximately seven-foot bronze will be placed near the fountain.
A breezeway takes pedestrians, including students walking from nearby University Park, to a spacious lawn between SGS and the Guerrieri University Center. An extended patio with seating to read, study and socialize lines the rear façade. A pavilion with gas grills for cookouts and a special area with artificial turf for everything from volleyball and Bocce to cornhole are a few steps away.
"Students in Sea Gull Square are enjoying the opportunities and benefits living on campus provide, from attending cultural events in the evening to being conveniently close to the library," said Foust. National studies show that undergraduates who live on campus have higher retention rates than those who do not. Now nearly 40 percent of SU undergrads live on campus, well above the national average, he added.
Serving upperclassmen and transfer students, SGS "is the next step toward independent living for them," said Dave Gutoskey, director of housing and residence life. "They are thoroughly enjoying the building amenities: The racks in the room holding bikes are filled; the exercise room is in constant use. Students patronize the restaurants and pharmacy on the square. A real sense of community has developed."
Another popular feature is the Rinnier Multipurpose Room, made possible by a $50,000 gift from Blair Rinnier, the Rinnier family and Rinnier Development Company, as part of SU's Campaign 2012. This high-tech SMART room is being well used for classes including a Living Learning Community, for special residence life programs, and by students studying at night, Gutoskey said.
The hallway leading to the Rinnier Multipurpose Room has an engaging black and white pictoral history of the University, dating back to its earliest days. Featured are such benefactors as Frank Perdue; former presidents including Drs. William Holloway and Thom Bellavance; the Great Hall, originally the campus's first dining room; the planting of a silver leaf linden in 1928; cheerleaders from the 1950s; and even a May Queen and May Day celebration. Upstairs, in lounge areas on each floor are colorful photographs of students in all aspects of University life, from study abroad to athletics to skateboarding.
SGS residents live in 156 apartment-style units, most of them four bedroom, two bath, with a kitchen, washer and dryer, and common area. Each has his or her own room. The main floor has a conference room for meetings and a faculty office and apartment to foster living learning interactions.
Continuing SU's commitment to sustainability, SGS will seek LEED Silver certification. Efforts include recycling the majority of waste from demolition and construction, the bike room to encourage "green" transportation, a roof that mitigates heat island effect, energy-efficient equipment and appliances, recycled flooring and low-volatile organic compound paint.
Currently, five retailers have opened or soon will be occupying part of the 23,000 square feet of commercial space, said Rinnier: Roly Poly sandwiches, Red Brick Pizza, Pemberton Apothecary, Designers Edge hair salon and Velvet Pearl boutique. More are expected.
SGS "started for me in October three years ago, in a meeting to introduce the concept of a mixed use project to be built on this site" said Rinnier. "During the meeting, one of the themes that stood out to me was 'Salisbury University: A Maryland University of National Distinction.' Through the incredible design process of WDG Architecture and the quality construction leadership of Whiting-Turner, this vision has become a reality."
"As many have noted, the University is an economic engine for Salisbury and the Lower Shore," said Betty Crockett, vice president of administration and finance. "One of the area's largest employers, the campus of some 8,600 students has an annual impact of over $400 million. Recent construction has contributed an additional $300 million into the local economy, according to the Perdue School's Business, Economic and Community Outreach Network. SGS and Perdue Hall, which were built concurrently, created some 500 jobs throughout their construction."
"Salisbury University has become a vital component in our city's life and commerce," said a recent Salisbury Daily Times editorial. "Salisbury University has also transformed the southern corridor of Route 13. … We are approaching a tipping point, when Salisbury will cease to be a town with a college and slip comfortably into its new identity as a college town."
For more information call 410-543-6030 or visit the SU Web site at www.salisbury.edu.