Monday, August 29, 2016
Fall Environmental Studies Colloquium Series begins Wednesday, Sept 7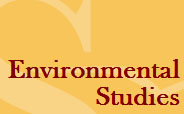 SALISBURY, MD---Salisbury University's fall 2016 Environmental Studies Colloquium Series begins with the presentation "Working With Wild Animals: Then and Now" 5:30 p.m. Wednesday, September 7.

All talks are in Henson Science Hall Room 243.

Bill Nelson, environmental studies faculty, shares his experience with wild animal rehabilitation. SU students Hannah Murphy and Parker Hudson follow with a discussion about their experiences setting up the new river otter exhibit at the Delmarva Discovery Center in Pocomoke City, MD. Together, they explore changing cultural assumptions and regulations regarding wild animals.

Upcoming presentations in the series include:

•Wednesday, September 21, 7 p.m., Holloway Hall, Great Hall – "Seeking Grace in a World of Wounds: Environmental Sustainability as Spiritual Calling with Dr. James Hatley of SU's Philosophy and Environmental Studies departments (Distinguished Faculty Lecture)

•Wednesday, October 12, 5:30 p.m. – "Hybrid Ecologies and Relational Ontologies: Toward a Hopeful Environmentalism" with Dr. Christian Hunold of Drexel University's Politics Department

•Wednesday, November 9, 7 p.m. – "Culture and Resource Management on the Chesapeake Bay" with Dr. Michael Paolisso of the University of Maryland, College Park's Anthropology Department (Chesapeake Distinguished Lecture)

Sponsored by the Environmental Studies Department, admission is free and the public is invited. For more information call 410-543-6030 or visit the SU website at www.salisbury.edu.