Thursday, September 20, 2012
Electronic Gallery Presents 'Sonic Space' September 22-October 13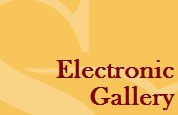 SALISBURY, MD---Salisbury University's Electronic Gallery continues its Sonic Arts Series with Pete Froslie's "Sonic Space" September 22-October 13.

"Sonic Space" is an immersive, interactive, software-based sound environment designed specifically for the Electronic Gallery. Froslie's work manifests through a somewhat alchemical process involving combinations of mythological narrative with technological systems. His research considers relationships and intersections between fictional, static surfaces and flowing, mutable infrastructures.

The exhibition involves a responsive software that theatrically mixes historical and procedural narratives with viewer interaction, and synthesized sound. The work borrows its narrative from the stage play 'Our American Cousin' as well as related histories surrounding Lincoln's assassination. Electronic voices, performed via computer text-to-speech output, complement active, geometric forms projected on the gallery wall. A computer in continuous performance offers visitors the potential for disruption of the virtual theater when simply entering the gallery space.

Froslie earned his B.F.A. in digital media from the University of Nevada. His works have been exhibited at galleries throughout the United States, including Boston, San Diego and Washington, D.C. He is an assistant professor of media art at the University of Oklahoma.

Electronic Gallery hours are 11 a.m.-4 p.m. Monday-Thursday, noon-4 p.m. Saturday. Admission is free and the public is invited. For more information call

410-548-2547 or visit the Electronic Gallery Web site at www.salisbury.edu/electronicgallery.