Friday, May 24, 2013
Eastern Shore Writing Project Co-Sponsors 'Echoes and Reflections' Holocaust Education Workshop Tuesday, July 16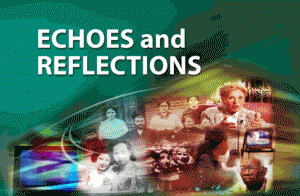 SALISBURY, MD---The Eastern Shore Writing Project at Salisbury University co-sponsors the workshop "Echoes and Reflections" for educators from across the region 10 a.m.-3 p.m. Tuesday, July 16.
During the session, scheduled in Teacher Education and Technology Center Room 156, Deborah Batiste provides training on how to integrate first-person narratives and multimedia into Holocaust teaching. Batiste is the project director of the "Echoes and Reflections" multimedia Holocaust curriculum, which is strongly rooted in first person and survivor testimony.
Registration is $25, including breakfast and materials. Pre-registration is required. Attendees receive the complete "Echoes and Reflections" multimedia kit, a $100 value.
The session is presented in partnership with the Anti-Defamation League, University of Southern California Shoah Foundation and the Yad Vashem World Center for Holocaust Research, Documentation, Education and Commemoration.
To register, or for more information, call Dr. Diana Wagner at 410-677-5490 or e-mail dmwagner@salisbury.edu.