Thursday, March 11, 2010
Dudley-Eshbach and Neufeldt Named Among Maryland's Top 100 Women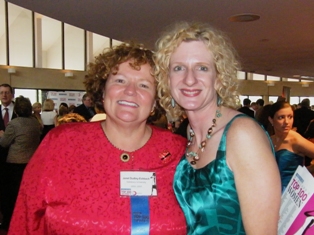 From left: SU President Janet Dudley-Eshbach and Vice President of Student Affairs Ellen Neufeldt during the 2010 Maryland's Top 100 Women ceremony.

SALISBURY, MD---Two members of the Salisbury University administration have been named among Maryland's Top 100 Women for 2010: Dr. Janet Dudley-Eshbach, president, and Dr. Ellen Neufeldt, vice president of student affairs.

Created by The Daily Record, a Baltimore-based business newspaper, the award recognizes the outstanding achievements of professional women who reside or work in Maryland. This is the 15th year the award has been given. Dudley-Eshbach also was selected in 2007 and 2005, and as a three time honoree, she will be inducted into the Circle of Excellence.

"In her 10th year as President of Salisbury University, Dr. Dudley-Eshbach has brought SU to an unprecedented level of success," said her nomination letter. "Student demand, incoming grade point averages and student diversity are all at the highest levels in the institution's history. … None of [SU's new construction] projects would be possible without the strong leadership, continuing encouragement and unrelenting advocacy of this talented, energetic and visionary leader."

Since Dudley-Eshbach became SU's eighth president in June 2000, the first woman to hold the office in the University's 75-year history, the campus has grown in size and reputation. Enrollment has increased by 28 percent to over 8,200 students, with minority enrollment more than doubling during this same time. SU also has consistently been among U.S. News & World Report's top public universities and was recently named a "Best Value" by The Princeton Review/USA Today and Kiplinger's Personal Finance. The Chronicle of Higher Education named SU a "Great Colleges to Work For®" in 2009.

In addition, Dudley-Eshbach has helped the campus grow strategically, increasing the campus footprint by some 25 percent. She oversaw the opening of one of the state's largest science facilities, Henson Science Hall, and the $65 million Teacher Education and Technology Center, a showcase building for education in Maryland and the mid-Atlantic region. She also has been instrumental in the development of a new $54 million home for the Franklin P. Perdue School of Business and a $45 million residential-retail complex, Sea Gull Square. Both are scheduled to open in 2011.

A Latin American scholar who is fluent in Spanish, Dudley-Eshbach is a champion of international study and service for students, increasing opportunities in all academic disciplines. She has led the University in new directions through a series of initiatives including expanding shared governance; promoting increased diversity among students, faculty and staff; and improving town-gown relations.

Dudley-Eshbach serves on the board of directors for the American Association of State Colleges and Universities, which she also represents on the board of the American Council on Education. She was formerly president of Fairmont State University in West Virginia and held faculty and administrative positions at three other campuses. She earned her Ph.D. from El Colegio de Mexico.

This is the first time Neufeldt was named to the Top 100 Women. Her nomination letter called her leadership "exceptional, not just for her division but for the entire campus." It describes her dedication to personally mentoring Student Government Association officers and her willingness "to spend hours with students—and often their parents—to help guide them in making sound choices for their college career and beyond."

Since coming to SU in 2005, Neufeldt has championed student success and engagement initiatives while overseeing the areas of enrollment management, student services, student life and athletics. She also has worked diligently to promote SU enrollment growth, and enhance its student diversity and academic profile: The campus' test-optional pilot study for high-achieving high school students has earned statewide attention.

Neufeldt has guided the renovation of student housing to promote living-learning communities to further academic engagement. With her encouragement, students have also embraced the greater community through such activities as The Big Event and We Love Salisbury clean-up days. Additionally, Neufeldt has taken a key role in the construction of Sea Gull Square, a new, innovative and sustainable mixed-use residence hall and retail complex.

Neufeldt has been an active member of the National Association for Student Personnel Administrators and the Southern Association for College Student Affairs. In the local community, she contributes to Shore Leadership and the Wicomico Rotary Club, and also serves as vice chair for the board of Lower Shore Enterprises.

Neufeldt earned her Ed.D. from the University of Tennessee at Knoxville, and her M.A. in counselor education and B.S. in business administration from Tennessee Technological University.

The Daily Record created Maryland's Top 100 Women to recognize professional success, community leadership and other contributions by women throughout the state. It also recognizes those who play an active role in mentoring younger generations.

In 2008, four members of the campus community were honored: Dr. Rosemary M. Thomas, vice president of University Advancement and executive director of the SU Foundation; Marie Cavallaro, senior faculty in the SU Art Department; Paula Morris, faculty in the SU Marketing Department; and Stephanie Willey, a founding member of SU's Town-Gown Council.

This year's recipients were honored at an awards ceremony at Myerhoff Symphony Hall in Baltimore. For more information call 410-543-6030 or visit the SU Web site at www.salisbury.edu.