Friday, August 17, 2012
Dr. Beatriz Hardy Named SU's New Dean of Libraries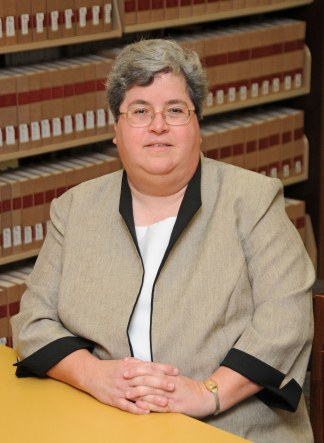 SALISBURY, MD---A senior leader at one of the nation's best university libraries has been appointed dean of libraries at Salisbury University.

Dr. Beatriz B. Hardy comes to SU after serving in several key administrative positions for the library system at the College of William and Mary. She is expected to play a crucial role in the development of Salisbury's new Academic Commons.

"Dr. Hardy's professional and scholarly background is ideal for our campus," said Dr. Diane Allen, SU's provost and senior vice president of academic affairs. "Her experience at university libraries and archives of excellence, such as William and Mary and the Maryland Historical Society, makes her uniquely qualified to lead in the development of our new library and learning complex. We expect her expertise and vision to have a major impact on this 21st century project—one of the most significant in the history of the University. She will make a visible qualitative difference in this architectural icon of the campus."

Hardy looks forward to helping develop the new library facility to best meet the ever-changing needs of students. Students today engage in far more collaboration than in the past, so the new building will provide room for group study as well as spaces for individual work and quiet reading. Flexible technology in the library will support students producing multimedia presentations or creating data-intensive projects in addition to those researching and writing traditional papers. Hardy also eagerly anticipates the synergy that will follow in bringing together University library collections and services, such as information literacy instruction, and other academic services, such as the Writing Center and Center for Student Achievement.

The Academic Commons will include substantial space for the Edward H. Nabb Research Center for Delmarva History and Culture, allowing "SU to unite and expand our special collections, including rare books and manuscripts, archives and other resources," Hardy observed. "These materials will be gathered in a first-class archival facility with improved access for faculty, staff, students and the community. Climate control and security measures will meet the highest standards. It's a really exciting opportunity."

Before arriving at SU, Hardy directed William and Mary's Special Collections Research Center for six years, collaborating with faculty to increase the number of classes using its collections ten-fold, establishing a long-term preservation program and starting an online project that drew more than three hundred volunteers nationwide to transcribe Civil War documents from William and Mary's collections. She also helped create an online institutional repository for faculty and student research and publications. She thinks such a repository may be useful at SU, which is committed to learning through student research.

At William and Mary, Hardy also served as interim dean of the library (which has been ranked among the nation's best by The Princeton Review). In both roles, she raised funds, with over $2.8 million in library endowments, as well as procured in-kind gifts, such as a distinguished collection of 20th century American literature. She also strongly supported the college's teaching mission, helping to develop academic partnerships to assist with student research and thesis projects.

"Salisbury's emphasis on undergraduate research is exciting," Hardy said. "The campus is big enough to have diversity, but also is a place where an individual can really make a difference. The amount of enthusiasm and support that exists for the library is remarkable, despite its current facility. That is truly encouraging and a tribute to the staff."

For Hardy, coming to SU also means another opportunity to work with, and learn from, one of her all-time favorite professors: Dr. Janet Dudley-Eshbach. While an undergraduate at Goucher College, Hardy took four courses in Spanish and Latin American studies taught by SU's President, who, at that time, was just beginning her career in academia.

Hardy went on to earn an M.A. in American history from the University of Virginia, as well as a Master of Library Science and a Ph.D. in history from the University of Maryland, College Park. She has taught history at campuses including George Washington and Coastal Carolina universities and UMCP.

For four years, she worked for College Park's National History Day program, providing training and support to educators and coordinators of museums, historical societies and universities nationwide. Her commitment to getting students and teachers to conduct original research and use primary sources is partly what prompted the president of the famed Maryland Historical Society in Baltimore to encourage her to become its library director. In four years, she revamped the society's imaging services, created fellowship and internship programs, and established the Student Research Center for History. Her work there dovetails with the Nabb Center's focus on Delmarva history.

As a presenter at national and international conferences, Hardy has explored topics ranging from archivists and historians becoming social activists to digitizing collections such as Maryland Historical Society materials from jazz pioneer Eubie Blake. She also has presented on African-American genealogy and religion in Colonial Maryland. She is a member of the American Library Association.

Hardy, who enjoys reading mysteries for escape, attributes her love of history to her father. Every Sunday, he took his family to museums and historic sites in the Washington, D.C., region where they lived. She hopes to continue to share such passions at SU, where she will oversee a staff of 30 and help foster the academic pursuits of all students who enter the library.

For more information call 410-543-6017 or visit the SU Web site at www.salisbury.edu.