Wednesday, June 15, 2011
Delmarva Public Radio Wins Five AP Awards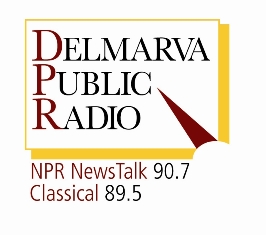 SALISBURY, MD---From coverage of a child molestation investigation that drew nationwide attention to a feature about the return of a last-of-its-breed watercraft, stories told by Delmarva Public Radio recently earned praise from the Chesapeake Associated Press Broadcasters Association (CAPBA).
WSCL 89.5 FM and WSDL 90.7 FM garnered five awards in the non-metro radio category during the association's annual summer convention in Ocean City, MD. The stations, which broadcast from the Salisbury University campus, have won 25 awards in the past seven years.
"We are very proud of News Director Don Rush, 2BoomerBabes Radio Hour hosts Kathy Bernard and Barbara Kline, and volunteer contributor Penny Hartman," said Interim General Manager Mike Dunn. "We greatly appreciate the work they do for Delmarva Public Radio. Just as we did in changing the name of our organization earlier this year, they strive to put Delmarva, and our listeners, first."
Rush took home three awards. His coverage of the investigation and trial of Delaware pediatrician Earl Bradley, who was charged with more than 100 counts of sexual abuse relating to his young patients, earned him the award for Outstanding News Series. He also won Outstanding Feature or Human Interest Story for his feature "A Skipjack Makes a Comeback" and Outstanding Use of Sound for his story "Delmarvans Cope with the Latest Heat Wave."
One of the stations' newest programs took top honors, as 2BoomerBabes Radio Hour won the award for Outstanding Talk Show. Moving to Delmarva Public Radio from WCEI in Easton, MD, last September, the show explores pressing Baby Boomer issues, including coping with aging parents, the returning home of adult children, mid-life romance, health and finance, in a lighthearted manner. The program won the honor—its first—based on segments including "Early Onset of Alzheimer's" and "Nude Recreation."
Winning the Outstanding Editorial or Commentary category was Hartman with her opinion piece "Just Don't Call Me Ma'am." This was Hartman's second consecutive win, following an award last year for her "Why I Love Delmarva" series.
Delmarva Public Radio was selected for these honors from among some 70 radio and television stations in Maryland, Delaware and Washington, D.C. For more information call 410-543-6895 or visit the Delmarva Public RadioWeb site at www.delmarvapublicradio.net.