Monday, March 5, 2007
De Klerk Lecture Tickets Available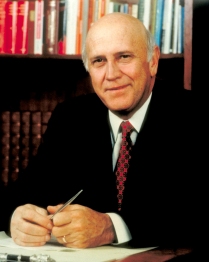 SALISBURY, MD---Nobel Laureate and former President of South Africa F.W. de Klerk speaks at Salisbury University as part of the Center for Conflict Resolution's "One Person Can Make a Difference" lecture series 7 p.m. Monday, April 9, in the Maggs Center. His talk is on "Leadership and Making a Difference."
The event is free and the public is invited, but tickets are required. Limited to two per person, they are available on a first come, first served basis at the Guerrieri University Center Information Desk between 8 a.m.-10 p.m. Monday – Saturday and noon-10 p.m. Sunday beginning Monday, March 12.
De Klerk and President Nelson Mandela were the 1993 co-recipients of the Nobel Peace Prize for their work in leading the transition of South Africa from apartheid to a one-person, one-vote democratic form of governance.
His talk is sponsored by the Maryland Mediation and Conflict Resolution Office; Office of the President and Provost; Offices of the deans of the Perdue School of Business, Fulton School of Liberal Arts, Seidel School of Education and Professional Studies and the Henson School of Science and Technology; Multicultural Student Services; Vice President of Student Affairs Office; Fair Practices Office; Student Government Association; SU Foundation, Inc.; and the Center for Conflict Resolution Board of Directors. For more information call 410-543-6030 or visit the SU Web site at www.salisbury.edu.