Thursday, January 18, 2007
Davis Named Outstanding First-Year Advocate Semi-Finalist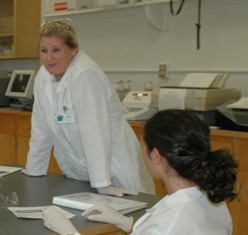 SALISBURY, MD---When students begin their matriculation at Salisbury University, Dr. Diane Davis, faculty in the Clinical Laboratory Science Program of the Department of Health Sciences is often one of the first faculty they meet.
For her work with multiple new student programs at SU, Dr. Davis was named a semi-finalist for Outstanding First-Year Student Advocate by the National Resource Center for the First-Year Experience and Students in Transition.
"The variety of ways in which Dr. Davis supports first-time freshmen is amazing," said Lawanda Dockins-Gordy, SU's director of New Student Experience, who nominated Davis. "Her success at meeting her goal is exceptional."
Davis is a member of SU's New Student Experience Leadership Team Advisory Board and co-advisor of SU's chapter of Phi Eta Sigma, the national freshman honor society. She was instrumental in developing SU's New Student Reader Program and has taught a section of SU's Achieving Social, Academic and Personal Success (ASAP) course for new students for more than a decade. She also has served as a freshman advising and course registration faculty advisor during that time.
In 2000, she also developed a new course for SU's Experimental Orientation Program called "Fun with Forensics." Taking a cue from the popularity of TV shows like C.S.I., the four-day residential course allowed students to learn the basics of forensics—as well as the campus' layout and offerings—while investigating a fictional murder.
For more information call 410-543-6030 or visit the SU Web site at www.salisbury.edu.