Thursday, September 25, 2008
Congressman John P. Sarbanes Speaks on No Child Left Behind October 2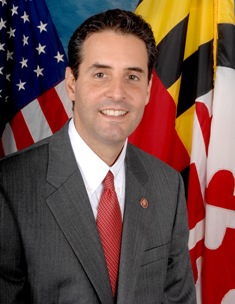 SALISBURY, MD---Maryland Congressman John P. Sarbanes speaks on education issues, including those affected by the upcoming election, at 7:30 p.m. Thursday, October 2, in Holloway Hall Auditorium at Salisbury University.
The Congressman, who represents the 3rd district (spanning portions of Anne Arundel, Baltimore and Howard counties and Baltimore City), has personal ties to the Eastern Shore. His father, retired U.S. Senator Paul Sarbanes, was born and raised in Salisbury. Sarbanes family members, including an uncle and aunt, Tony and Billye, and cousins Beth Sheller and Jimmy, continue to live in Wicomico County.
Elected in 2006, the freshman Congressman has been awarded the Outstanding New Member Award by the Voice for National Service during his first term. He has also received an honorary award from the National Association of Law Schools for his work in passing the Education for Public Service Act, which helps those who want to pursue a career in public service do so without being saddled with overwhelming debt.
The title of his SU talk is "The Status of No Child Left Behind and the Effect of the Election on Educational Issues at the Federal Level."
"NCLB was certainly landmark legislation in the effect it has had on public schools and the reauthorization has been the subject of debate and uncertainty about the future of some of the implementation provisions," said Dr. Dennis Pataniczek, dean of SU's Samuel W. and Marilyn C. Seidel School of Education and Professional Studies. "I'm excited that Congressman Sarbanes will be here to share with us his perspective on the future of the legislation. As a member of the House Education and Labor Committee, Mr. Sarbanes is in a unique position to offer a perspective from the inside."
Sarbanes graduated from the Woodrow Wilson School of Public and International Affairs at Princeton in 1984 and the following year studied law and politics in Greece on a Fulbright Scholarship. After graduating from Harvard Law School in 1988, he returned to Baltimore,
where he clerked for Judge J. Frederick Motz on the federal district court and the following year began his law practice at Venable LLP. He spent 18 years at the Maryland firm.
Before coming to Congress, Congressman Sarbanes worked to improve public
education in Maryland's school system. Most recently, he completed a seven-year tenure as special assistant to the State Superintendent of Schools Nancy Grasmick, serving as liaison to the Baltimore City Public Schools under the City-State Partnership.
His other House assignments include the House Natural Resources and Oversight and Government Reform committees.
He lives in the Towson with his wife of 19 years, Dina, and their three children, who attend Baltimore County public schools.
Sponsored by the Salisbury University Foundation, Inc., Seidel School and Institute for Public Affairs and Civic Engagement (PACE), the Congressman's talk is free and the public is invited. A reception follows. For more information call 410-543-6030 or visit the SU Web site at www.salisbury.edu.