Tuesday, October 17, 2017
Clara Small Releases 'Compass Points' Volume 2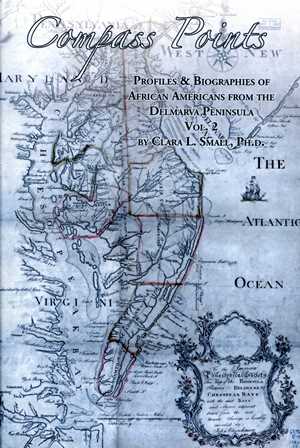 SALISBURY, MD---In 2014, Dr. Clara Small, Salisbury University professor emerita of history, delved into the lives of more than 50 notable individuals in her book Compass Points: Profiles and Biographies of African Americans from the Delmarva Peninsula.
At that time, she lamented that she had only so much space in which to share the stories of those profiled, ranging from the first African American woman to serve in a state legislature, to two Tuskeegee Airmen, to a Buffalo Soldier, to the second president of Liberia and more.
Three years later, she adds more than 90 names to that list in Compass Points Volume 2. Both were published by Saltwater Media in Berlin, MD.
Small first realized the need for more readily available information about the historical roles of African Americans on Delmarva and beyond in 1998, when a student in one of her classes asserted that African Americans' contributions were inconsequential to the U.S. and especially the Eastern Shore.
In response, she wrote the 32-page book A Reality Check. It included brief biographies of several historically important African Americans from the Delmarva Peninsula, including Harriet Tubman and Frederick Douglass. The Compass Points series is an expansion of that project.
"The history of Americans of African descent on Delmarva has suffered from benign neglect," Small said. "It has simply been ignored or distorted to the point that it is virtually invisible. The Delmarva Peninsula has a very rich, virtually untapped history for African Americans, and this series is merely an attempt to begin the dialogue about its richness."
The latest volume spans categories including prominent families, educators and administrators, civic and community activists, political figures, business leaders, physicians, judges and attorneys, artists and craftsmen, authors and journalists, military personnel, religious leaders, sports figures and preservers of culture.
Among them are such varied individuals as Clifton Wharton Sr., the first African American ambassador to Norway; Shirley Bulah Stamps, a defendant in the U.S. Supreme Court's Brown vs. Board of Education case; Harold Pinkett, first African American archivist at the National Archives; retired Major League Baseball second baseman Delino DeShields; and former NFL running back Ben Tate.
Small also has written previously about the role African Americans from the area played in the Civil War. In 2010, she co-authored (with the Rev. David Briddell, who is profiled in the newest edition of Compass Points) Men of Color to Arms! Manumitted Slaves and Free Blacks from the Lower Eastern Shore of Maryland Who Served in the Civil War. That book chronicled the names, ranks, and dates of enlistment, discharge, desertion or death of some 1,300 Lower Shore residents.
Earlier this year, with Dorchester County Historical Society member Teresa Neild, she released They Wore Blue and Their Hearts Were Loyal: the United States Colored Troops of Dorchester County, Maryland, featuring the stories of more than 550 slaves and free African Americans from that county who served in the Union Army during the Civil War.
For more information call 410-543-6030 or visit the SU website at www.salisbury.edu.