Wednesday, August 6, 2014
Chinese Students Explore America Through SU's ELI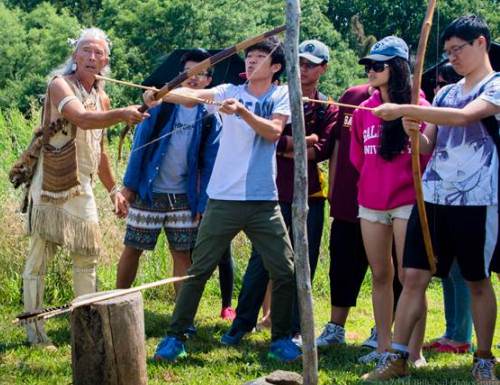 SALISBURY, MD---Thirty-five students from China recently learned about Dorchester County's pre-historic native people when they visited the Chicone Village at Handsell on Indiantown Road.
Five members of the Nanticoke Historic Preservation Alliance (NHPA) board greeted the students, who are enrolled in a four-week Intensive Study Abroad Program (ISAP) at Salisbury University.
Offered through SU's English Language Institute, the summer program provides international university students with intensive English language instruction and immersion experiences that reflect American life, history and culture. The program's theme is the "good stewardship" of shared resources, environments and communities on the Eastern Shore and beyond.
Students practice their language skills in formal English classes and in real-life settings through educational excursions and social activities with American students and families. They also meet local community leaders and attend talks and workshops.
At Handsell they enjoyed a full-dress presentation by Daniel Firehawk Abbott, NHPA board member, researcher and designer of the newly finished Chicone Longhouse. This replica of a native dwelling is the first of a series of functional structures that will help the NHPA interpret the story of the original Chicone Village once located on the site. The partnership with SU is an example of the types of educational programs which NHPA hopes to develop through the Chicone Village Project.
While studying at SU, the students are experiencing many sites of cultural, historical and ecological interest, including museums, farms, rivers, parks and nearby attractions such as Handsell. Other sites of interest include Assateague National Seashore, the Chesapeake Bay Maritime Museum, Ward Museum and Ocean City boardwalk. They are exploring beekeeping, organic farming, media production, marshlands and waterways, American law enforcement and emergency response, and cultural pastimes such as Shorebirds baseball. Weekend tours include New York City, Washington, D.C., and Williamsburg, VA.

"I have learned a lot about American life during ISAP program," said participant YueHua Dong. ShiYue Zhang added, "I'll never forget these experiences. I learned a lot and enjoy all the lessons and activities."

This year's ISAP students and four faculty chaperones hail from three major Chinese institutions: Xinhua College of Sun Yat-sen University, Tianjin University of Education and Technology, and Anqing Normal University. They are on campus through Friday, August 8.

For more information call 410-543-6030 or visit the SU website at www.salisbury.edu.