Caviglia-Harris, Horton Inaugurate Environmental Studies Colloquium Series Wednesday, February 12
Friday January 31, 2014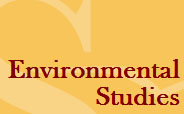 SALISBURY, MD---Environmental leaders from the Eastern Shore, Maryland and beyond speak on a variety of topics during Salisbury University's Environmental Studies Colloquium Series.
All presentations begin at 7 p.m.
Dr. Jill Caviglia-Harris of SU's Environmental Studies and Economics and Finance departments and Tom Horton of the Environmental Studies Department inaugurate the series Wednesday, February 12, in Teacher Education and Technology Center (TETC) Room 152. They speak on how to "Empower Your Words to Get Your Message Across."
Caviglia-Harris is a 2013 Stanford Woods Institute for the Environment Leopold Leadership Fellow. She was selected for the prestigious honor for her research in deforestation and human welfare, and the role of human decisions in shaping the environment in areas including the Amazon, where National Science Foundation grants helped further her research.
In 2012 and 2013, with Dr. Mike Lewis, chair of the Environmental Studies Department, she received the $80,000 University System of Maryland (USM) Wilson H. Elkins Professorship to create an organic farm, design a field research station and further expand her research in the Amazon.
She also has received the USM's highest honor, the Regents Faculty Award for Excellence, as well as the Southern Economic Association's prominent Kenneth G. Elzinga Teaching Award.
A native of Maryland's Eastern Shore, Horton covered the environment for The Baltimore Sun for 32 years from 1972-2004 before leaving to become a freelance reporter and author. He has written seven books, including Bay Country, winner of the 1988 John Burroughs Award for the year's best book of nature writing.
His book Swanfall, written for young readers about the ecology and lifecycle of the tundra swan, won the John Burroughs Medal. His articles have appeared in National Geographic, Rolling Stone, The New York Times Magazine and Smithsonian, among others.
The Sierra Club called him "one of this country's most effective and profound environmental reporters" upon presenting him with its noteworthy David Brower Award. Other honors have included the Scripps Howard Newspapers Meeman Award, the National Wildlife Federation's Communication of the Year Award and the Chesapeake Bay Foundation Conservationist of the Year Award.
Upcoming speakers and topics in the series include:
Wednesday, March 5 – Reema Persad-Clem and Jay Martin: "The Role of Community in Sustainability and Conservation," TETC Room 153
Saturday, March 8 – Visiting author Joel Salatin, Perdue Hall, Bennett Family Auditorium (sponsored by the Eastern Shore Regional Library)
Wednesday, April 2 – Bernie Fowler: "Ninety Years in the Life of a Chesapeake Bay River and Its Legendary Defender," Henson Science Hall Room 243
Wednesday, April 30 – Panel discussion: "Environmental and Economic Implications of Natural Gas Drilling for Maryland," Guerrieri University Center, Wicomico Room
Sponsored by the Environmental Studies Department, admission is free and the public is invited. For more information call 410-543-6030 or visit the SU website at www.salisbury.edu.
SHARE