Wednesday, March 26, 2014
Boroughs Discusses 'Chesapeake Archaeology at the Crossroads' Saturday, April 5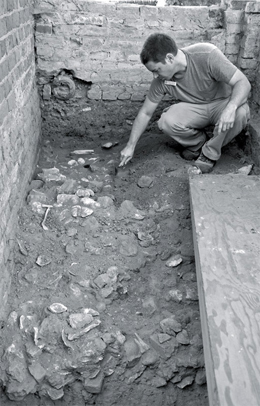 SALISBURY, MD---Salisbury University's Edward H. Nabb Research Center for Delmarva History and Culture inaugurates its Maryland Archaeology Month celebration with an interactive discussion 1:30-3 p.m. Saturday, April 5.

Dr. Jason Boroughs, visiting assistant professor in SU's History Department, leads the discussion "Chesapeake Archaeology at the Crossroads: Local Voices Across Four Centuries" at the center, 190 Wayne St. His presentation focuses on the diversity of local voices and the role of the Chesapeake region in shaping global history.

Boroughs has been involved with archaeological digs on the Eastern Shore and beyond. Last summer, he led students in SU's first archaeological field school in more than a decade. They helped determine the footprint of the former fellowship hall at the Christ Rock Church historical site in Cambridge, MD.

In the process, they uncovered over 4,000 artifacts, from coins to bottles to small toys, believed to have been remnants from 19th- and 20th-century community socials and church picnics. They helped tell the story of the church and the community.

Sponsored by the Nabb Research Center, admission to the discussion is free and the public is invited. Audience participation is encouraged.

For more information call 410-543-6312 or visit the center's website at http://nabbhistory.salisbury.edu.