Thursday, September 19, 2013
Author Lynch Speaks on 'Vietnam Mailbag' at Nabb Center Gallery Wednesday, September 25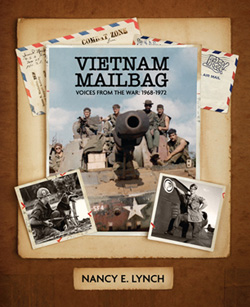 SALISBURY, MD---From the early 1960s through 1973, thousands of Americans served in Vietnam.
During much of the conflict, a young reporter, Nancy Lynch, relayed the hopes and fears, joys and tears of hundreds of Delaware soldiers, sailors, airmen and marines through the "Vietnam Mailbag" column she wrote for the Wilmington Morning News.
Lynch tells the story of troops at war through the letters they wrote to her more than four decades ago in her book Vietnam Mailbag: Voices from the War, 1968-1972. She discusses her research and holds a booksigning 7 p.m. Wednesday, September 25, in the gallery of SU's Edward H. Nabb Research Center for Delmarva History and Culture, 190 Wayne St.
Through a series of moving interviews, Lynch caught up with many of the soldiers whose letters she published. The resulting DVD, in which they share how their experiences in Vietnam helped shape their lives, also will be available during her presentation.
Sponsored by the Nabb Research Center, admission is free and the public is invited. For more information call 410-543-6312 or visit the center's website at http://nabbhistory.salisbury.edu.