Wednesday, September 10, 2014
'Attack of the Killer Stripey Tubes' Workshop Friday, September 19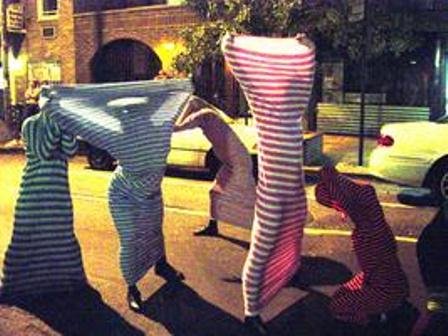 SALISBURY, MD---Beware the killer stripey tubes!

Salisbury University Art Galleries hosts interdisciplinary artist Claire Elizabeth Barratt and audiovisual artist David Linton on Friday, September 19, at 234 W. Main St. (formerly Parker Place).

Barratt offers a Motion Sculpture workshop from 1-4 p.m. The workshop culminates with the motion sculpture movement installation "Attack of the Killer Stripey Tubes" from 5:30-8 p.m. on the downtown plaza as part of the Salisbury Arts & Entertainment District's monthly 3rd Friday celebration.



Linton presents an audiovisual installation at 234 W. Main St. at 7 p.m. Barratt delivers a live dance performance within the audiovisual environment at 8 p.m.

Motion sculpture is an original movement style developed by Barratt, involving similar practices to tai chi, yoga and butoh Japanese dance theatre.

Sponsored by SU Art Galleries, admission to the workshop and performances is free, and the public is invited. The workshop is for ages 18 and older. Barratt strongly encourages all to attend the workshop regardless of any previous movement experience.

Participants should wear comfortable clothes and are asked to sign up in advance at www.eventbrite.com/e/motion-sculpture-workshop-with-claire-elizabeth-barratt-tickets-12934356007.

For more information call 410-548-2547 or visit the SU Art Galleries website at www.salisbury.edu/universitygalleries.