American Spiritual Ensemble Performs at SU November 3
Monday October 29, 2007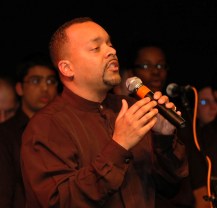 SALISBURY, MD---Created in the fields and plantation houses of the old South, the spiritual allowed slaves to secretly communicate through singing.
That musical art form comes to Salisbury University on Saturday, November 3, as the American Spiritual Ensemble performs at 7 p.m. in Holloway Hall Auditorium. The world-renowned singing group includes SU music faculty John Wesley Wright. Founded by Dr. Everett McCorvey in 1995, the Ensemble strives to keep the tradition of American Negro spirituals alive. They have performed all over the world, including such prestigious venues as the Metropolitan and New York City Operas.
The ensemble has appeared in the PBS documentary The Spirituals. As a prelude to the concert, Salisbury University hosts a showing of film at 7 p.m. Friday, November 2, in Holloway Hall Auditorium. The documentary explores the history of the American Spiritual Ensemble's original art form. Student performances and a question-and-answer session will round out the film showing.
Admission is free and the public is invited. Sponsored by the Office of Cultural Affairs, the Fulton School, and the Office of the Provost. For information, call 410-219-2872 or visit the SU website at www.salisbury.edu.
SHARE