Thursday, March 30, 2006
$8 Million Gift Announced For New Perdue School Building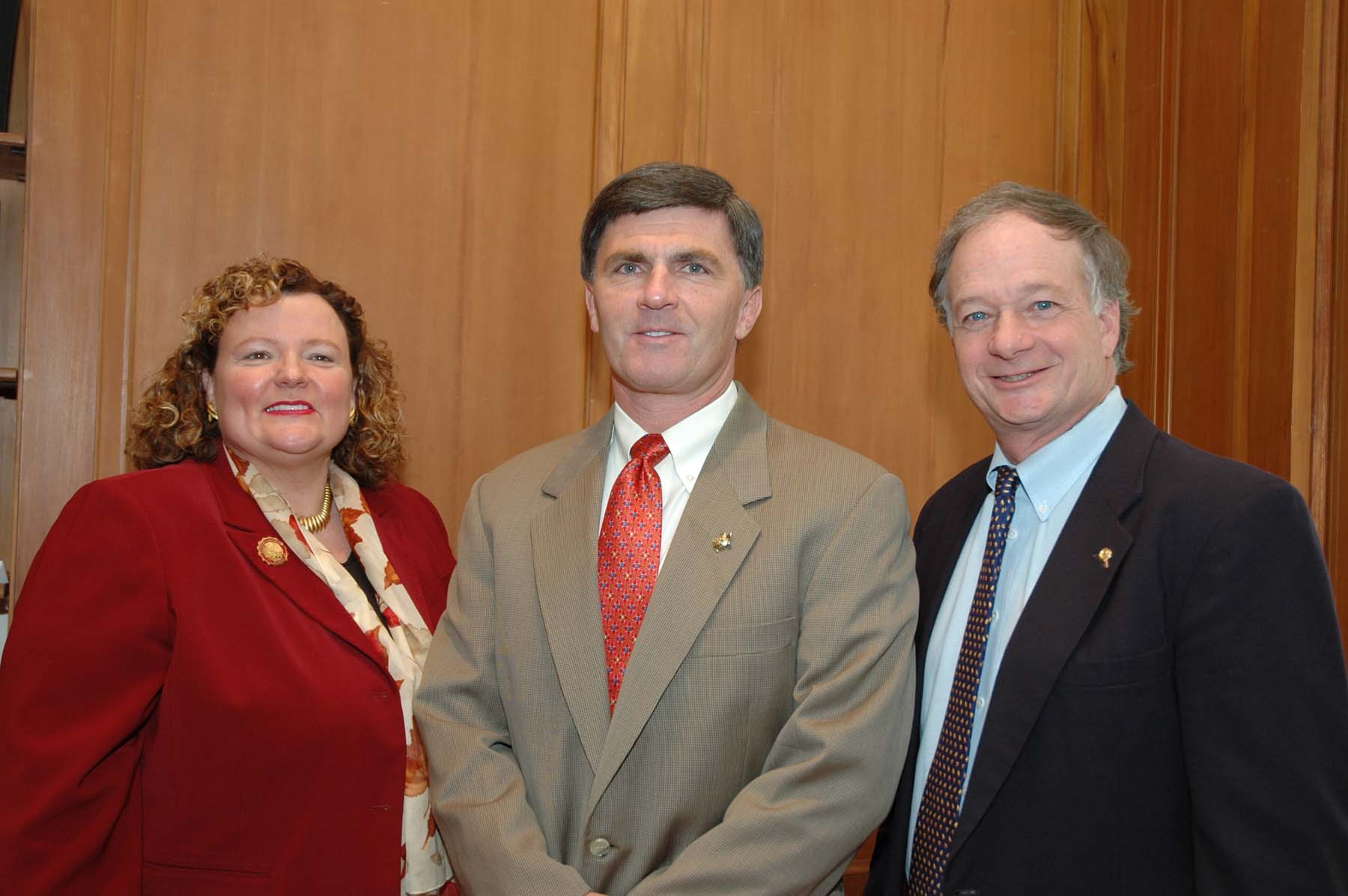 From left, SU President Janet Dudley-Eshbach,
Governor Robert L. Ehrlich Jr. and Jim Perdue,
chairman of Perdue Incorporated and
president of the Arthur W. Perdue Foundation
SALISBURY, MD---The Arthur W. Perdue Foundation today announced an $8 million gift for the construction of a new home for the Franklin P. Perdue School of Business at Salisbury University.
The announcement comes on the 20th anniversary of the founding of the Perdue School, created by a multimillion-dollar endowment from Frank Perdue and Perdue Farms in 1986, and it commemorates the one-year anniversary of Mr. Perdue's passing on March 31, 2005.
The new building will replace and expand the facilities that currently support the Perdue School's academic, research and public service programs. Housed in the north wing of Holloway Hall, the University's first endowed school has outgrown its current space. Funding for the Perdue School building will come from both public and private sources. The State has made a five-year, $33 million commitment to the approximately $45 million project that includes $1.7 million in planning money in next year's capital budget. In addition to the $8 million gift from the Perdue Foundation, the Salisbury University Foundation will raise additional funds for the project during its upcoming capital campaign. The Perdue contribution toward the building is the largest private donation for a capital project in the history of the University.
"As we mark the first anniversary of my dad's passing, the Perdue family is proud to continue his support of Salisbury University and help continue Salisbury University's commitment to excellence in education," said Jim Perdue, chairman of Perdue Incorporated and president of the Arthur W. Perdue Foundation.
"This extraordinary gift will transform the very face of this campus," said SU President Janet Dudley-Eshbach. "It will redefine the teaching capabilities of our faculty, and it will change the manner in which our students prepare for success in the knowledge-based economy. It will take the collaboration between the University and this region's employers to a new level and will enable us to accommodate more students while maintaining our high standards of quality. I am deeply grateful to the Arthur W. Perdue Foundation and the Perdue family for this historic expression of generosity."
"Today's announcement is a perfect example of the public and private sectors partnering successfully in support of Maryland higher education," said Maryland Governor Robert L. Ehrlich Jr. "Salisbury University has managed its resources efficiently and has made a tremendous contribution to Maryland's economy by consistently producing workforce-ready graduates. As Governor, I have encouraged our public universities to operate more efficiently and to reach out to the private sector for support of key priorities. Salisbury University's efforts in that regard have made it one of the rising stars in higher education."
"This is truly an extraordinary day for Salisbury University and the entire University System of Maryland," said University System of Maryland Chancellor William E. "Brit" Kirwan. "The partnership between the University and Perdue Incorporated is precisely what the Governor, the legislature and the Board of Regents expect us to do … balance state funding with significant private investment. It will help Salisbury University meet its expectations for enrollment growth while contributing to its state and national reputation. I am extremely grateful to the Governor and the Perdue family for making this important day possible."
The original Perdue endowment had a transforming effect on what was then Salisbury State College. The first such gift for the campus, Perdue's generosity became a model that led to other major bequests by Eastern Shore business leaders. In little over a decade, all of the University's four schools were endowed, a rarity among public institutions nationwide.
Frank Perdue attended SU in the 1930s, and the endowment marked the beginning of even closer ties between the Perdue family and the University. In 1994 he gave the Business School another $1 million after its undergraduate and graduate programs earned accreditation from AACSB International—the Association to Advance Collegiate Schools of Business. (The world's most respected accrediting body for business programs, only 15 percent of business schools worldwide have this accreditation, and the Perdue School is the only such accredited business program on the Delmarva Peninsula.) Today, the Perdue School ranks in the top 20 percent of business schools nationwide.
Serving with distinction on the Salisbury University Foundation board of directors for six years, Frank Perdue retired from the board in 2003 and was succeeded by his son, Jim, who earned his M.B.A. from SU. Frank Perdue and his wife, Mitzi, were frequent visitors to campus and hosted Perdue Scholars (students awarded academic scholarships funded by his endowment) in their home.
Just as the initial Perdue commitments were critical to the development of SU, this latest gift is part of an ongoing campus transformation. In 2002 SU dedicated its $42 million Henson Science Hall, one of the largest science buildings of its kind in Maryland. In fall 2006 the University will break ground on a $50 million education and technology complex. Longtime observers believe the construction of the Perdue School building will mark yet another new era for the University.
At the time of his second gift, Perdue said, "When we began this process … we could only dream that we would have come so far so fast. … I am proud to have my name associated with this fine school."
Said Dudley-Eshbach, "Salisbury University has always been proud of its partnership with Perdue Incorporated and the Perdue family. Frank's legacy will ensure the growing reputation of Salisbury University's Perdue School of Business."
* * *
Perdue Incorporated
PERDUE« is one of America's most trusted and recognized brand names. Ranked third in sales in the poultry industry, the company is a leading international food and agriculture business. Its operating subsidiaries, which include Perdue Farms, provide quality products and services to retail, foodservice and agricultural customers in more than 40 countries.
Privately held and family run for three generations, the company employs more than 20,000 associates and partners with 7,500 independent farm families—all who share in the commitment to quality, service and reliability that has guided the company since its founding in 1920.
Perdue also ranks among the top 12 U.S. grain companies and is a major producer of agricultural products—from refined soybean oil to feed ingredients. It has its own fleet of barges, leased rail cars and a deep water port to export grain and agricultural products around the world.
Setting the highest standards for quality, food safety, environmental stewardship and poultry welfare, Perdue Incorporated is an American business leader.
The Franklin P. Perdue School of Business
Salisbury University's Perdue School is the largest college-level center for business education and development in the region, with programs for community, business and economic development. The Perdue School has over 1,500 students in its bachelor's and master's degree programs. Business administration is the largest academic major on campus.
As part of their professional development, all Perdue School majors are required to participate in an Applied Business Learning Experience (ABLE) professional development program, usually through an internship. Student interns may be found from Willards, MD, to Wall Street. Many intern at Perdue Incorporated.
Entrepreneurship is encouraged through the annual Bernstein Award Competition which presents a $5,000 prize for best business plan. The most recent winner had his plan ranked among the top 11 student business plans in the country by Fortune Small Business Magazine.
The Perdue School also has developed international business study programs on three continents, in countries such as France, Germany, the United Kingdom, Ireland, Chile and most recently, China.
Salisbury University
Offering 42 undergraduate and 11 graduate programs to some 7,000 students, Salisbury University was recently named one of the "100 Best Values in Public Colleges" by Kiplinger's Personal Finance magazine and "150 Best Value American Colleges" by The Princeton Review. U.S. News & World Report ranks SU as one of the top 10 public universities in the North among its peers. Kaplan-Newsweek calls it one of the "367 Most Interesting Schools." SU also is one of The Princeton Review's Best 361 Colleges. Longtime observers of the institution credit Frank Perdue's initial financial commitment as critical to current SU success. Frank Perdue was, in many ways, one of the founders of today's Salisbury University.
* * *
Remarks From Jim Perdue
As we mark the first anniversary of my dad, Frank Perdue's, passing, the Perdue family is proud to continue his support of Salisbury University. On behalf of the Perdue family, I am pleased to announce a donation of $8 million to Salisbury University. In partnership with the State of Maryland, this gift will help create a new home for the Franklin P. Perdue School of Business and support Salisbury University' s commitment to excellence in education.

By the time he graduated from high school, my dad decided he had enough of early morning chores and weekend work on the farm. He wasn't sure what he would do, but he made up his mind it wouldn't have anything to do with chickens. That's when he enrolled in what was then Salisbury Normal School.

It also gave dad a chance to pursue his first love: baseball. Dad played under the beloved Coach Maggs, namesake of the Maggs Athletic Center. Coach Maggs must have been a very patient man, because dad was not a very good ball player. Dad often said he picked up more lumber from splinters on the bench than bats.

Back in the 1930s, this school was a two-year program, after which you either went on to continue your training as a teacher, or transferred elsewhere to pursue a different field of study. So, I think dad discovered three things during his two years:
He didn't want to teach ...
He wasn't a good enough baseball player ...
He was a very good ping-pong player.

So, after his two years, dad decided raising chickens wasn't so bad after all, and, in 1939, he went to work for my grandfather as only the second full-time employee.

Of course, dad went on to create a branded product, dramatically grew our company and became a household name throughout the eastern U.S. Through it all, however, Salisbury remained dad's home, and he was especially fond of Salisbury University, due in part to his respect for the late President Thom Bellavance. He was proud to have served on the University of Maryland System Board of Regents, and honored by the opportunity to endow the Franklin P Perdue School of Business in 1986. Dean Tim Mescone and Rick Bebee did a great job developing the school. And under the leadership of Dean Willie Moore the program has excelled.

The Perdue family would like to acknowledge the help of President Janet Dudley-Eshbach, Chancellor Kirwan and the Board of Regents. And we especially thank Governor Ehrlich and the State of Maryland for their support and especially for their prompt action. I was impressed with how quickly the state responded.

When dad gave a second gift to the School of Business, he recalled, "When we began this process, we could only dream that we would have come so far so fast." Beginning today, we can all look forward to building dad's "field of dreams" on this campus. "