Friday, March 31, 2017
56th Biannual Senior Art Exhibitions April 3-May 20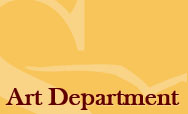 SALISBURY, MD---Salisbury University's graduating art students showcase their works during SU's 56th biannual Senior Exhibition, "Transcendence," in the University Gallery of Fulton Hall.

The fine arts portion of the show is April 3-22, with an awards reception 5-7 p.m. Friday, April 14. The graphic design portion is May 1-20, with an awards reception 5-7 p.m. Friday, May 12. Light refreshments are served at both receptions.

The shows are part of the Senior Exhibition course taught by Elizabeth Kauffman. The goal of the class is to summarize the students' art experiences at SU by having them lead the planning and execution of a professional art exhibit.

At the shows, each student uses a portion of the University Gallery to display their work, which is based on their specific art track and encompasses an overarching theme of their choice. During the awards receptions, the artists present their portfolios, resumes and business cards.

"This show continues to be one of our most popular for the diversity of art and design included and the excitement of seeing what the next generation of creatives are up to," said Kauffman.



Sponsored by the Art Department and Charles R. and Martha N. Fulton School of Liberal Arts, admission is free and the public is invited. Gallery hours are 10 a.m.-5 p.m. Monday-Thursday, noon-4 p.m. Friday-Saturday.

For more information call 410-548-2547 or visit the SU Art Galleries website at www.salisbury.edu/universitygalleries.