Tuesday, April 15, 2014
34th SU Philosophy Symposium Set Apr. 26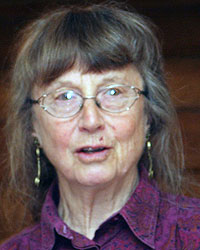 SALISBURY, MD---Is there an overlap between bodily movement, art and philosophy? Dr. Maxine Sheets-Johnstone thinks so.

The University of Oregon Courtesy Professor of Philosophy joins Salisbury University Philosophy Department faculty to discuss the issue during the 34th annual SU Philosophy Symposium, "Movement: The Foundational Reality of Animate Life Moving in Concert."

The symposium is 9 a.m.-4 p.m. Saturday, April 26, in Teacher Education and Technology Center Room 153.

Events begin with a continental breakfast. During the morning session, Sheets-Johnstone talks about the importance of the human body and its movement in dance for humankind as curious beings who engage with the world. She also challenges the traditional idea that philosophy is, first and foremost, a cognitive activity that does not rely on the human body beyond the brain.

Following a break for lunch, faculty and other local panelists add their insights. The audience is invited to join in the discussion throughout the day.

The author of The Primacy of Movement, Johnstone's research spans multiple disciplines, including philosophy, evolutionary biology, psychology and psychiatry, anthropology, dance and socio-political dimensions of humane life. She earned a Durham University (UK) Institute of Advanced Study Distinguished Fellowship for her research on xenophobia.

Her additional works include The Corporeal Turn: An Interdisciplinary Reader, Illuminating Dance: Philosophical Explorations, Giving the Body Its Due and the "Roots" trilogy – The Roots of Thinking, The Roots of Power: Animate Form and Gendered Bodies and The Roots of Morality.

Sponsored by the SU Philosophy Department, admission is free and the public is invited. For more information call 410-677-5070 or visit the SU Web site at www.salisbury.edu.