SU Contingent Shines at Model UN
Tuesday September 19, 2023
By SU Public Relations
SALISBURY, MD---Sitting in the General Assembly Hall of the United Nations in New York on the final day of their week-long Model U.N. conference, Salisbury University students Ayomide Odetola and Carolyn Reynolds were capping a thrilling week during which they were celebrated for earning a prestigious position paper honor, marking just the second time SU students have received the accolade.
Position papers are documents submitted prior to the beginning of the Model UN conference that presents a country's position on the UN committee topics under discussion. Through the position paper, delegates demonstrate their knowledge of previous efforts to address the committee topics. They also demonstrate how well they understand their assigned country's foreign policy. To write an effective position paper requires extensive research into both the assigned country and the UN committee that the students are serving on.
"I was not expecting to win the Position Paper Award. This was just my second conference, and I don't have a lot of experience writing position papers," said Reynolds, a rising senior international studies major from Ellicott City, MD. "The general assembly was filled with 90 different countries at our conference, and they're all so incredibly talented and experienced with Model UN, so when our country got called up, there was this moment of profound shock and disbelief. It was a very proud moment for me."
The 10-student SU contingent represented the Asian nation of Sri Lanka this year. Students spent much of the previous fall and spring semesters studying, learning and preparing to take on the role of Sri Lankan diplomats in the mock forum.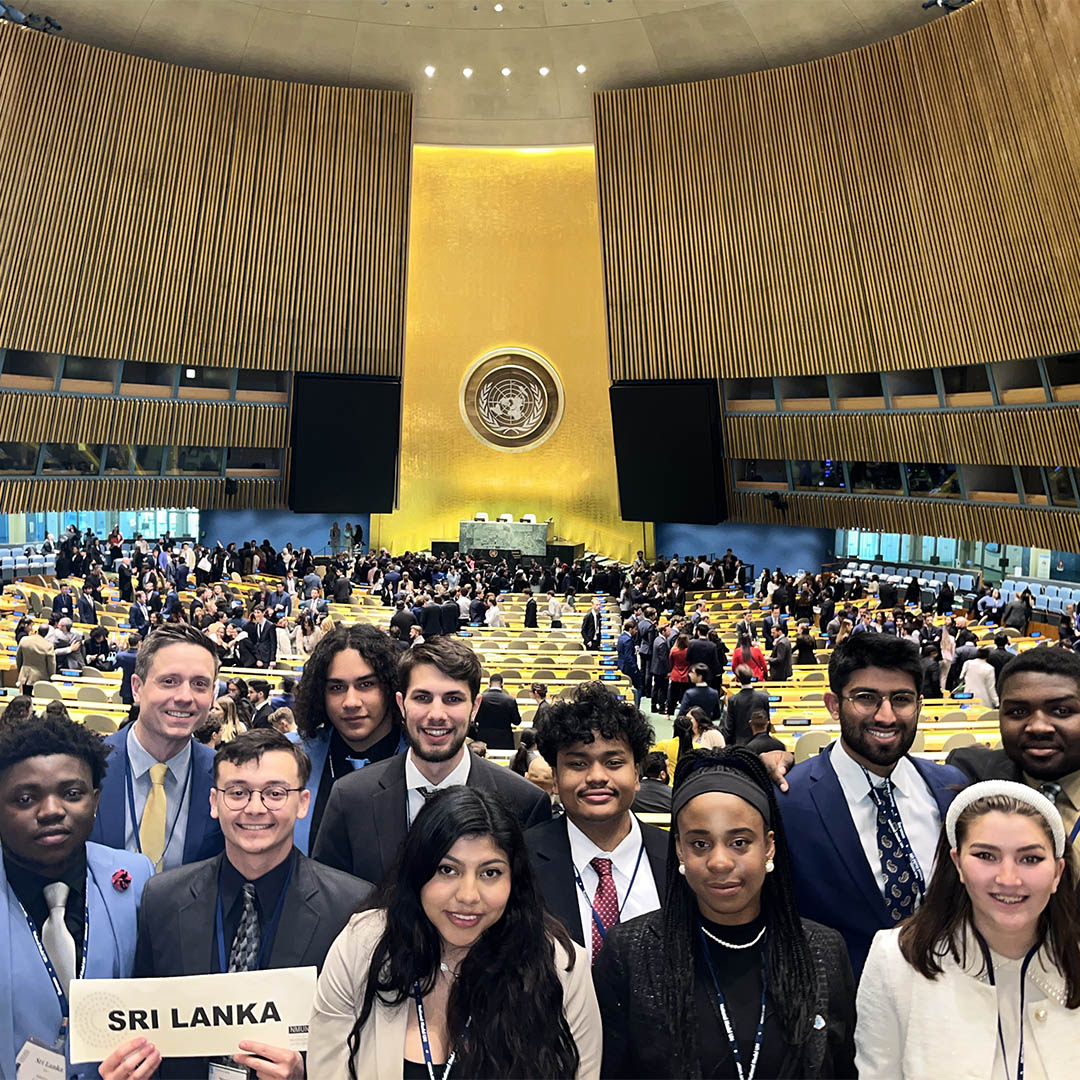 The club's president, Jacob Cudmore-Maupai, led the delegation through its preparation for the conference, including inviting Dr. S. I. Keethaponcalan, professor in the Conflict Analysis and Dispute Resolution Department, to speak to the delegation about his native country's politics and position in the world.
"It was really cool to learn about a new country," said Odetola, who graduated in May with degrees in political science and economics, also from Ellicott City. "Prior to this, I had zero background knowledge on Sri Lanka. I didn't even know what it looked like or where it was really located. But that's part of what I love about Model UN: Once you adopt a country, you get very intimately in tune with it."
Reynolds and Odetola were members of the General Assembly Second Committee, focusing on sustainable economic development. In their paper, Odetola focused on minimizing shock in a global economy, while Reynolds tackled rural economic development.
Among nearly 100 nations represented in each committee, just a handful are selected as position paper winners.
A number of the students from SU's contingent, including Reynolds and Odetola, also were a part of a three-day Model UN conference in Washington, D.C., in January 2022. The larger offering in spring 2023 allowed students to become more engrossed in their efforts.
"It's that much more intensive and rigorous, and students really get lost in the experience. Some told me they forgot about everything else going on in their lives because they got so immersed in it," said Dr. Eric Rittinger, chair of SU's Political Science Department and the club's advisor. "You can get so caught up in the dynamics of your committee."
While the students worked within their committees 12 hours per day over the five-day conference, faculty members were given the opportunity to visit an exhibition curated by the Ukrainian government to shed light on the Russian invasion in that country. Rittinger was surprised when their tour guide turned out to be Sergiy Kyslytsya, the permanent UN representative from Ukraine.
"He has been one of the most eloquent forceful speakers on the topic of defending against Russian aggression," said Rittinger. "When the war broke out and there was an emergency session of the security council, he was invited as the representative from Ukraine to the security council to try to rally international support in favor of Ukraine. I'd actually shown clips of him speaking to my classes, and now he's leading this exhibit. That was a really exciting experience."
While many students in the club are political science and international studies majors, it is open to all SU students. Those from other disciplines help establish an even broader view of world issues, Rittinger said.
Students interested in joining SU's Model UN Club should email Rittinger.
Learn more about SU and opportunities to Make Tomorrow Yours at www.salisbury.edu.