SU Cheerleading Brings Home First National Championship
Wednesday April 19, 2023
SALISBURY, MD---"Same thing, different day."
That was the mantra for the Salisbury University cheerleading squad in its final weeks of the 2022-23 season, leading up the to the National Cheerleaders Association (NCA) Collegiate Cheer Championship.
That "thing," by the way, was perfection. Team members practiced their routine time and time again until it was virtually flawless.
On day one of the competition, SU earned a perfect score: no deductions. On the second and final day, it received just one deduction, making the team's two-day performance the strongest among the 12 teams in its division. The result: SU's first cheerleading national championship.
"We really had to pick the very best to put on the floor, and they were some really hard decisions to make," said the team's coach, Kristin Morris '16. "That's really risky to do a week or two before you go. The week before we left, we practiced six days in a row, and it was very tight deciding how much we pushed in the lead-up to the championship."
Part of the concern came from new elements added to the team's routine in those final weeks. Morris and assistant coach Brianna Black constantly reviewed not just SU's performances, but those of the competition to see where improvement and other gains could be made.
Black often takes it upon herself to scout the teams SU competes against at nationals. An impromptu trip to Massachusetts to see a showcase featuring several of those teams turned out to be a key to victory.
"I have always followed other teams on social media," said Black. "I saw that they were having this showcase, so we could scope out the competition."
Seeing what they would be facing, Morris and Black took a closer look at how the other teams' routines — and their own — fit the scoresheet. The coaches decided they need to add a few new elements in that final week.
With a reimagined routine in hand, the team traveled to Daytona Beach, FL, and performed well in its last official practice before competition. It then came out and nailed the routine on the first day, putting SU in first place at the end of day one.
"We felt good heading to Florida, but we didn't truly feel prepared until after day one when they hit the routine with no deductions," said Morris. "That was the first time we had no deductions with this routine."
But the cushion was minimal, as the first score counts for just 25% of a team's total standing. Still, the team was confident heading to day two.
"It was kind of electric," Black said of the atmosphere following the first day. "We could see these girls that didn't have a lot of faith in the routine or themselves before that day, they just gained all the confidence. They saw that it was a winning routine because they were in first. It was amazing to see all these girls get pumped up about it."
SU was the final team to perform on day two, allowing Morris and Black to watch the other 11 teams' performances first. While they saw some small mistakes, they knew it might take a repeat from day one to secure the title.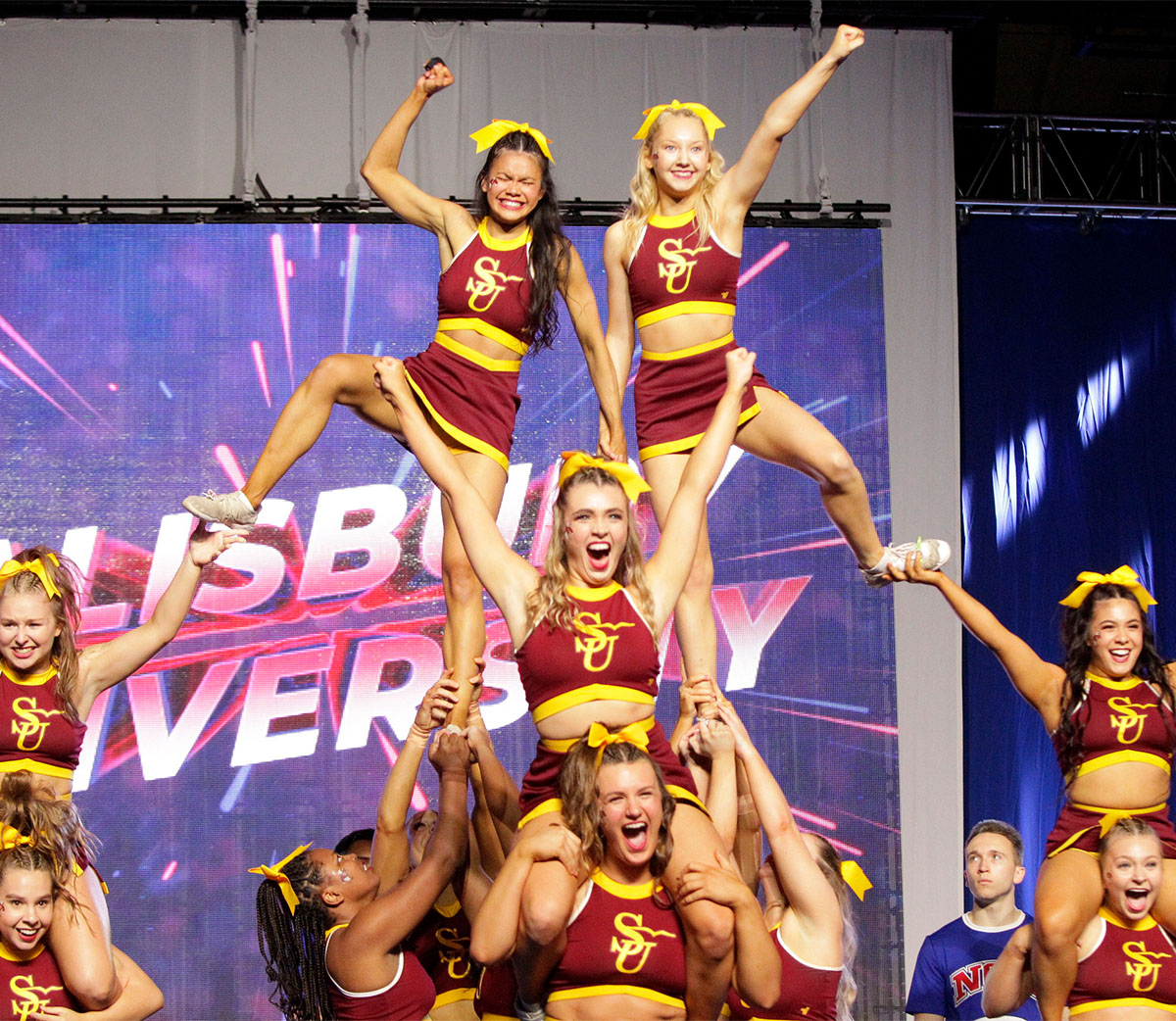 "We have to have a strong performance, there's no in between," said Morris of her thoughts heading into the final performance. "I told them, 'Same thing, different day. If you come out and do the same thing as yesterday, you'll be perfectly fine.'"
Cheerleading competitions bring their own unique level of stress. There is no live scoreboard to tell what team won as soon as the last team performs. Each team receives its own scoresheet to know how it was judged, but full results are not announced until the award ceremony. Morris and Black knew of their deduction, but couldn't know the other teams' final scores.
Last year, "Salisbury University" was called as the third-place team – at the time the highest finish in school history. This year, when third place was announced as Piedmont College, it was down to SU and the University of Massachusetts-Boston.
"This is my seventh season. Year after year, you come out of nationals and think about 'What could we have done different?'" said Morris. "You look at it over and over again. You never feel like you have it. It wasn't until after day one that I thought we really could do this. It wasn't until they called second place and it wasn't us that we believed it. It was chaos!"
The graduating team members went out on top while those returning begin their title defense now. Tryouts for next year's team will be held May 7. New team members will step onto a national championship squad in the next few weeks, and SU will be hoping for the same thing, different year.
Learn more about SU and opportunities to Make Tomorrow Yours at www.salisbury.edu.