SU Community Volunteers During the Holiday Season
Tuesday November 23, 2021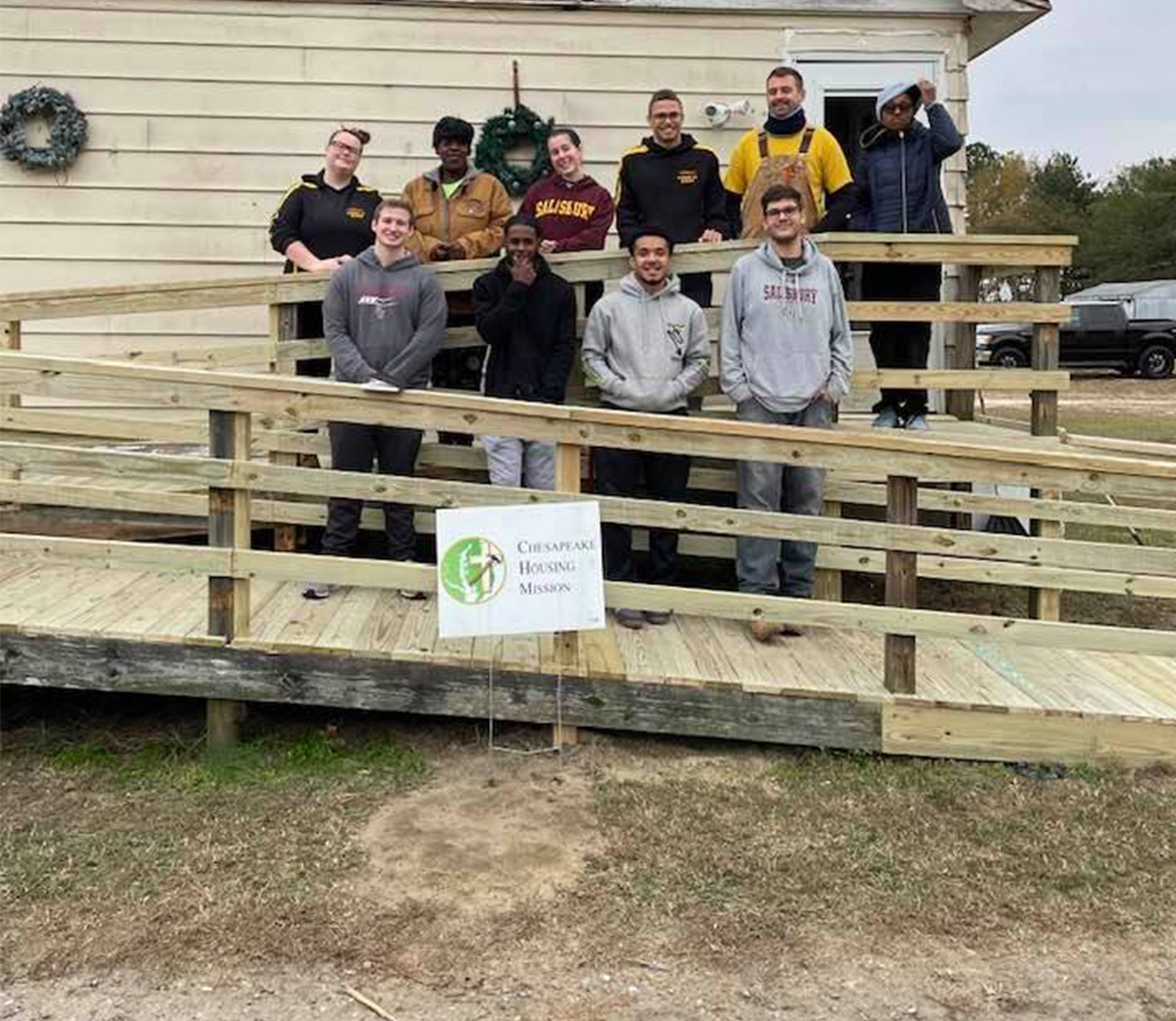 SALISBURY, MD---Salisbury University students, faculty and staff are preparing for the holidays with projects that benefit the whole community and beyond. This year's efforts include:
17th ANNUAL BIG EVENT: Some 400 students stepped up to help beautify the city in November, volunteering at homes near campus by raking leaves and clearing yard waste for those in need of assistance.
BE A SANTA TO A SENIOR: The Administration and Finance Division is participating in the "Be a Santa to a Senior" program through Home Instead Senior Care, benefitting senior citizens who are in local care facilities or alone for the holidays. The program allows SU community members to provide gifts for seniors who may be alone or financially challenged.
TOYS FOR TOTS: The Franklin P. Perdue School of Business is collecting toys for the U.S. Marine Corps' Toys for Tots program. Donations are accepted at the Perdue School Dean's Office.
HOLIDAY TREE FOR FOSTER CARE: The School of Social Work, in conjunction with the Social Work Student Association, is populating a holiday tree with information on local children in foster care and their wishes for gifts this holiday season that members of the SU community can help fulfill.
SALVATION ARMY RED KETTLE CAMPAIGN: Faculty and staff in the Perdue School also are volunteering their time for the Salvation Army's Red Kettle Campaign around the Salisbury area this December.
DONATING A THANKSGIVING MEAL: Members of the women's lacrosse team gathered items to donate a full Thanksgiving meal to a local family in need. The team also spends time throughout the year volunteering at the Wicomico Humane Society.
SUPPLYING 55 THANKSGIVING DINNERS: Through his UN Millenium Fellowship project, Clarke Honors College student River Myer coordinated with University Dining Services to collect items to supply 55 families dealing with food insecurity with meal packages. The effort supplies meals for more than 300 individuals.
SERVING AT HALO: Members of the SU baseball team purchase breakfast items, prepare and serve the meal, and clean afterward at Hope and Life Ministries' outreach center every Friday throughout the year.
CHESAPEAKE HOUSING MISSION: More than 60 SU volunteers have given their time and hard work to make others' lives a little easier, working with Chesapeake Housing Mission to build wheelchair ramps for homes in the area. SU volunteers average more than 10 ramp builds each year.
HELPING YOUTH SPORTS: Members of SU's Club Baseball team have spent many months helping with youth sports in the area this year, volunteering as umpires and coaches for Fruitland Little League and Eastern Shore Force. They also assisted with Wicomico County's opening of Field 7 ½, to host an adaptive baseball program for individuals with physical and intellectual impairments.
DONATIONS FOR AFGHAN REFUGEES: Faculty across many disciplines coordinated a drive for hygiene and sanitary products to assist refugees affected by the recent crisis in Afghanistan.
Learn more about how SU students and faculty are exploring opportunities for greatness and making tomorrow theirs at www.salisbury.edu.

SHARE