SU Launches New Brand: 'Make Tomorrow Yours'
Monday October 18, 2021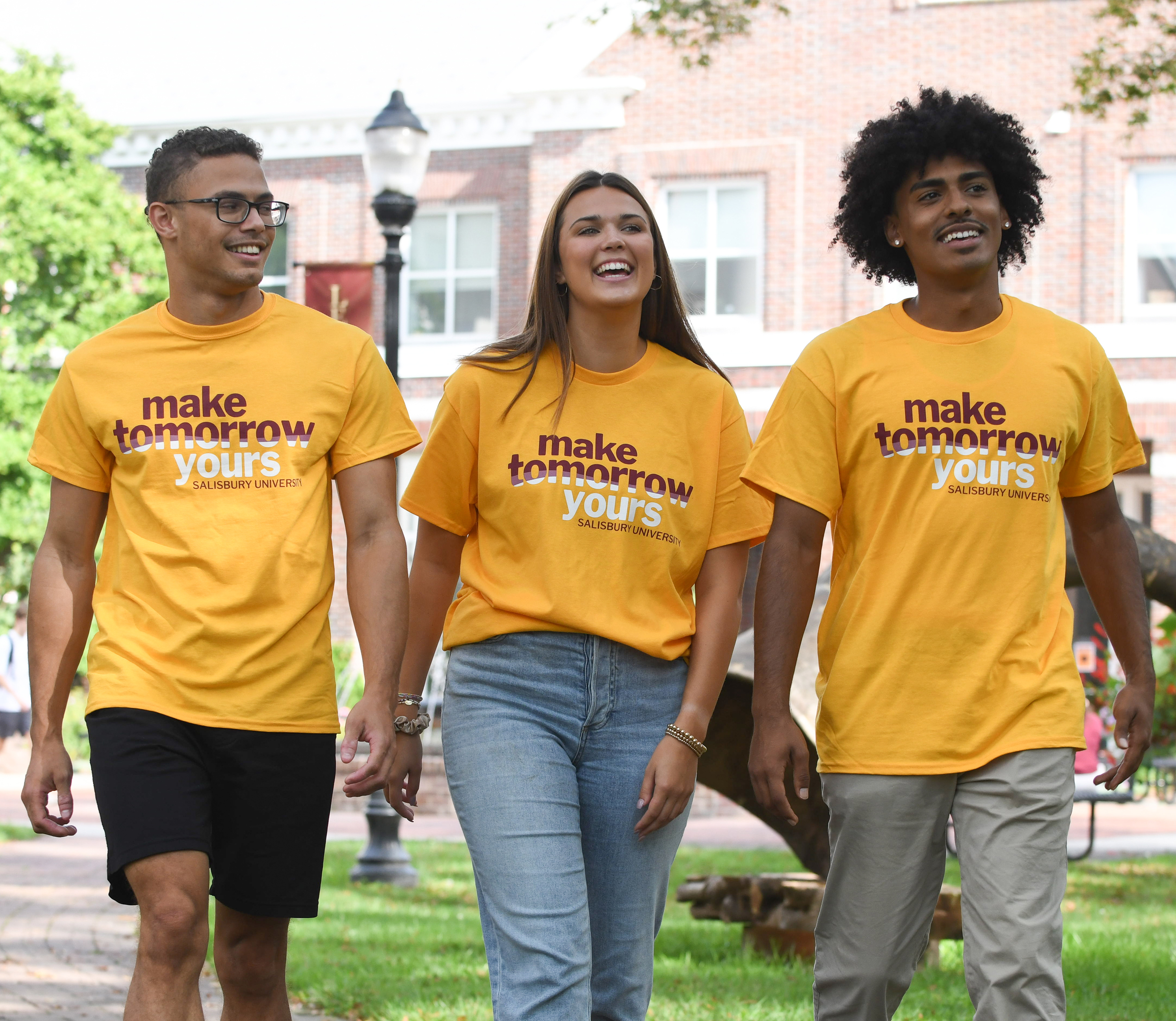 SALISBURY, MD---What comes to mind when students, faculty, staff, families, alumni, supporters and others think about Salisbury University?
This week, the nearly-century-old institution answered that question with the launch of its new brand initiative: "Make Tomorrow Yours."
"I think you'll agree that while this forward-facing branding effort is new, the end result is true to SU," said SU President Charles Wight. "We have accurately captured the long-standing commitment of our institution to providing students with rich and plentiful opportunities, as well as the dedication of our faculty and staff who change the trajectory of our students' lives and open doors for graduates to thrive. Yes, we are tomorrow makers."
For many, their first experience with the new brand will be receiving giveaways such as T-shirts, laptop stickers, pompoms and more at pop-up events during SU's Spirit Week and Alumni Homecoming and Family Weekend, October 18-24. Others may notice updated branding around campus, including the "SU Wave," a new, dynamic graphic specially designed to capture the campaign's spirit.
"Our new brand is the result of a thoughtful year-long effort led by a steering committee with input from numerous constituencies both on and off campus," said Sue Eagle, SU associate vice president of marketing and communications. "In response to strategic plan goals, our aim was to research and develop a brand promise and pillars that best reflect the University's mission, vision and priorities.
"'Make Tomorrow Yours' is more than just a tagline. It's a charge to our students and a promise from the SU community that we will set success in motion by providing them with the resources to achieve that goal. It is our passion, purpose and commitment to propel them into their future careers faster and better prepared than ever, giving them every opportunity to succeed."
The new brand will be reflected not only in SU's traditional marketing materials, but in its visual representation, including photos, videos, campus publications, written materials, the SU website and more. A launch video and more information about using the new brand are available at the brand webpage.
SU partnered with consultants from Stamats Communications, Inc., and its subsidiary, The Thornburg Group, to create the new brand. Founded in 1923, the Minneapolis-based company is a leading higher education market research firm.
Learn more about how SU students and faculty are exploring opportunities for greatness and making tomorrow theirs at the SU website.