SU's Glenda Chatham and Robert G. Clarke Honors College Announced with $1.5 Million Endowment
Tuesday September 8, 2020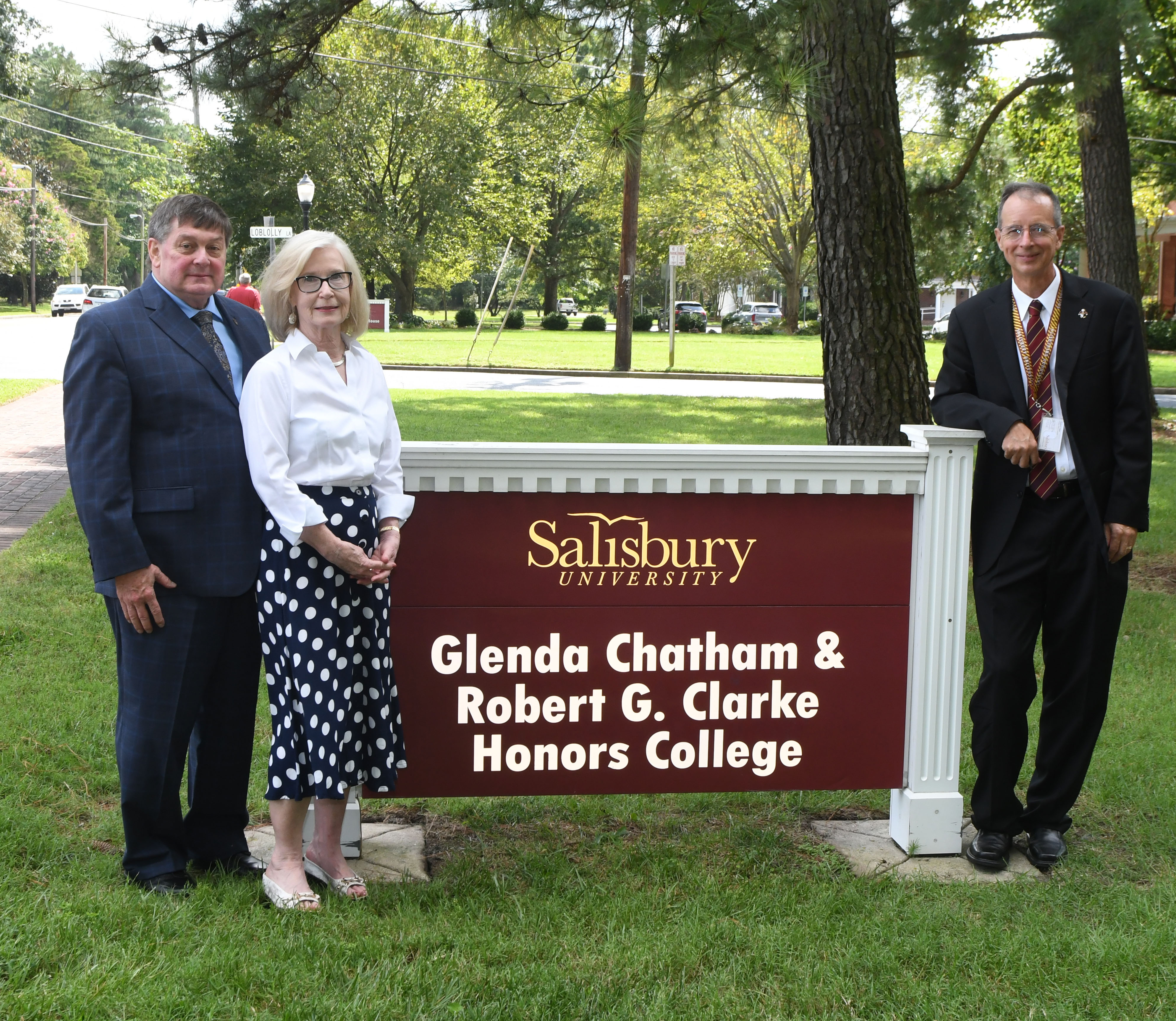 SALISBURY, MD---For Bob Clarke and Glenda Chatham, Salisbury University was a special place in 1968.
While lining up alphabetically for registration during their freshman year, the two struck up a conversation. In 1972, shortly after Glenda received her B.A. in English from SU and Bob marked his second year with the U.S. Air Force, they were wed.
Fifty years after they first met, the couple paid tribute to the many memories they shared at SU, donating $300,000 to endow the Nina Dixon and Grover F. Chatham Scholarship to support first-generation students from Glenda's alma mater, James M. Bennett High School.
In 2020, they have taken their commitment to the University and its students to a new level, announcing a $1.5 million planned endowment to benefit the SU Honors College, which will be named in their honor. This contribution is part of their larger philanthropic plan for the University, which also has included annual support for the Honors College and a planned gift for SU's entrepreneurship programs. View Video
"The Clarkes' story is a testament to the ability of higher education to impact lives, sometimes in unpredictable ways," said SU President Charles Wight. "Similarly, their generosity will impact the lives of our students in ways they and we are unable to predict.
"Fifty years from now, just as Bob and Glenda returned to campus a half-century after their initial experiences here, we hope today's honors students will come back and tell future generations how proud they were to be among the first enrolled in the Glenda Chatham and Robert G. Clarke Honors College."
SU's Honors Program began with 20 students in 1980 and later was named for Dr. Thomas E. Bellavance, the SU president who oversaw its start. In 2016, the SU Honors College was founded to serve the needs of a growing student population through the Bellavance Honors Program and subsequently added Business and Henson (for science, technology, mathematics and engineering students) honors programs.
Today, nearly 500 students from all five of SU's additional academic units – the Charles R. and Martha N. Fulton School of Liberal Arts; Richard A. Henson School of Science and Technology; Franklin P. Perdue School of Business; Samuel C. and Marilyn W. Seidel School of Education; and College of Health and Human Services – are enrolled in the Honors College.
"Just as current SU students are familiar with these names on campus, future students will know the names Robert and Glenda Clarke," said Dr. Andrew Martino, Honors College dean.
"Honors students have a unique opportunity to work with peers and professors across a variety of disciplines throughout their time at SU, participating in high-level classes and culminating with capstone projects that demonstrate their ability to continue working at those levels. We are honored that, going forward, that determination and self-motivation will take place under the Clarke name."
The Clarkes both worked long careers in education. After graduating from SU, Glenda served as an English teacher and reading specialist at schools throughout the U.S. as Bob's Air Force and higher education career continued.
After completing his bachelor's degree and earning a master's degree, Clarke left the Air Force to accept a position at Northampton Community College, eventually becoming dean of business, engineering and technology.
Bob and Glenda finally graduated together, from Lehigh University, in 1983 when he received his doctorate in higher education and Glenda an M.Ed. In 1984, he was selected as president of Vermont Technical College. He led VTC for 15 years before being appointed chancellor of the Vermont State Colleges. He retired from that position a decade later in 2009.
The couple moved to Snow Hill, MD, in 2012 to be closer to family on the Eastern Shore. Today, they dedicate their time to community endeavors, serving on the boards of local and national non-profits from the Worcester County Garden Club to the North American Electric Reliability Corporation (NERC).
Reconnecting with SU upon returning to the area, they saw a way to help students at their Alma Mater starting out the way they did more than half a century ago.
"We're very impressed with the changes and very impressed with the people at SU," said Clarke. "We wanted to invest in people — the students — and we wanted to invest in something that would be there long after we're gone."
While another named building was a possibility — Robert G. Clarke Hall already stands at Vermont Technical College — planning a gift that directly benefited SU's academic programs was even more appealing.
"We value education so much, and, of course, SU stands for education," said Chatham Clarke. "Education has been a part of our lives not only at SU, but throughout our professional careers, as well. We've been on college campuses forever. We love education and college life."
"One of the things we believe is that it's important to give back," said Clarke. We want to have a lasting impact on others. What better way to do that than through education and through SU?"
Their contributions also are helping to support "We Are SU: The Campaign for Salisbury University," the largest fundraising effort in campus history. The $75 million initiative is helping the University transform tomorrow, shape success and create connections through funding for student scholarships and academic programs.
For more information call 410-543-6175 or visit the "We Are SU" campaign website.
SHARE