Move-Out, Refunds, Commencement and More: SU Leads USM in Student Services During COVID-19 Changes
Saturday April 4, 2020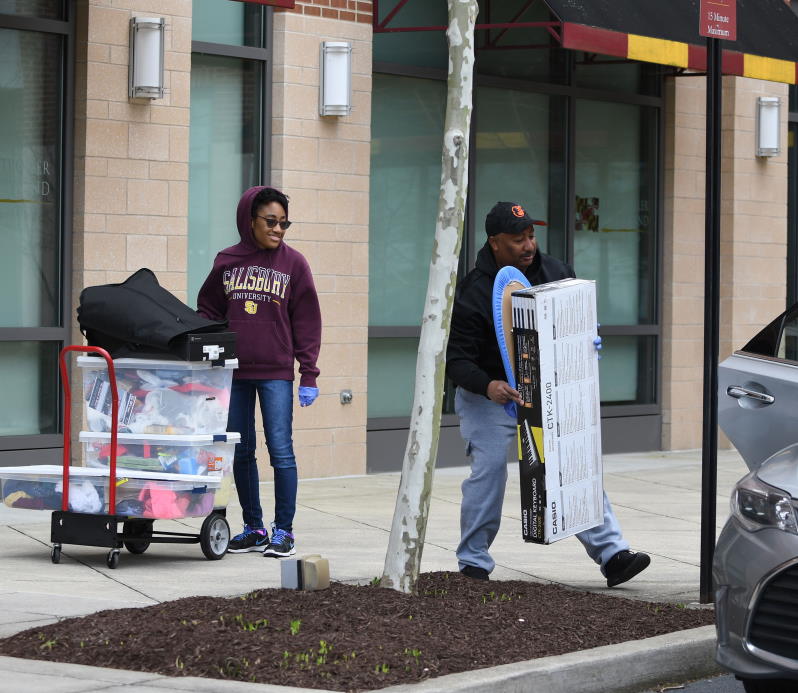 SALISBURY---"I was very impressed with the ease of move-out." "Move-out day was so easy." "I appreciate how organized Salisbury University has been during this crazy time."
These are just a few of the comments SU Housing and Residence Life staff heard as the campus' approximately 2,300 residential students returned to retrieve their belongings mid-semester.
In early March, SU announced it would hold classes online for two weeks following spring break to help slow the spread of the COVID-19 coronavirus. As more data and predictions about the virus emerged, it became clear that the online class model would need to extend for the rest of the semester.
Because students had expected to come back to campus in early April, many took with them only the essentials. To avoid a rush of students and parents returning at once to retrieve the rest, potentially violating social distancing guidelines now in effect, SU's Housing and Residence Life Office quickly implemented a schedule that invited only a few students at a time to pick up their belongings.
Each student was assigned a two-hour slot and allowed to bring one helper. With easy access to elevators, parking and other amenities, many were done in an hour or less. This efficiency allowed the University to clear more than 90 percent of rooms in its 10 residence halls in just three weeks. (A small handful of students were unable to return to retrieve their belongings. SU will secure them until they are picked up, even if that time continues into the next semester.)
"Thanks to our Housing and Residence Life staff, move-out for most students was a quick and easy process," said Dr. Dane Foust, vice president of student affairs. "While we know this is a bittersweet time for many of our students, we are glad that we could make this step as efficient and painless as possible."
Residential students, scheduled to have been on campus for 101 days this semester, received refunds of nearly 54 percent of their housing costs, reflecting the time remaining in the semester following spring break. Those with dining plans and parking passes received similar refunds. All students received partial refunds for mandatory fees including athletics, intramurals, student recreation, student activities, sustainability and student union operations. In all, refunds totaled more than $10 million.
While most University System of Maryland (USM) institutions are issuing similar refunds, SU has been lauded for the speed at which its refunds were processed. Because SU's Cashier's Office had calculated those refunds in advance, nearly 100 percent were processed within one week of being announced. SU students were the first in the USM to see the credits returned to their accounts.
Though instruction will continue through the end of the semester, the University had other academic decisions to make. In early April, SU announced it would join other USM institutions in allowing students to opt into a pass/no-pass grading option for individual classes given the extraordinary circumstances.
Days later, graduating seniors received a notice that many had been hoping for: Though no USM school will hold an in-person Commencement ceremony this spring, in accordance with Governor Hogan's order limiting public gatherings to 10 or fewer people, this semester's graduates will be able to walk across the stage to receive their diplomas. Special accommodations are being made for their ceremonies to be held at the same time as SU's annual Fall Commencement in December.
"All members of the Class of 2020 will be able to participate in the celebration on the same weekend," said Dr. Karen Olmstead, provost and senior vice president of academic affairs. "This will mark the first time in SU history that spring and fall graduates from the same year will have the option to do that, and I hope many of our graduates will be excited to take part in this historic occasion."
SU also will give members of this semester's graduating class the opportunity to celebrate at home with a festive "Gull Crate," containing graduation materials and gifts from the University and SU Alumni Association, which will be sent to each graduate in late May, around the time Commencement was to have taken place. Graduates are encouraged to share their enthusiasm with their classmates and others via social media posts.
Diplomas are scheduled to be mailed over the summer, once final grades are verified, as is tradition.
While some SU students may be celebrating by the semester's end, others may be struggling. The University has made special exemptions for several dozen students with no place else to go, including international students unable to return home at this time, allowing them to remain on campus and crediting their GullCards with funds allowing them to eat off campus. SU's Food for the Flock student food pantry also remains open, during limited hours, for students in need.
SU leaders also understand that the impacts of COVID-19 may hinder students in ways far beyond the classroom, including possibility that a job loss, rising medical costs or other catastrophe may impair their ability to continue pursuing their degrees. Students in dire circumstances may apply for emergency grants up to $250 from the Student Emergency Fund to allow their continued attendance at the University.
"These are uncertain times for many of our students," said Jason Curtin, vice president of university advancement and external affairs. "We want to help in any way we can, especially if that means the difference between a student's being able to continue their academic pursuits or having to drop out of college. At this time, we are asking for many of our donors to consider contributing to the Emergency Fund to ensure we have enough resources for all who may apply. 'SU Cares' is more than just a slogan. We want the best for our students regardless of their circumstances."
More information on supporting the SU Emergency Fund is available online.
SU also continues to offer resources for students, faculty and staff, along with the most up-to-date information on campus operations and more, at its COVID-19 webpage, www.salisbury.edu/coronavirus.
For more information call 410-543-6030 or visit the SU website.
SHARE