SU Alumna Donna Parks Honors Class of 1979 with Henson Medical Simulation Center Nursing Station Planned Gift
Wednesday March 4, 2020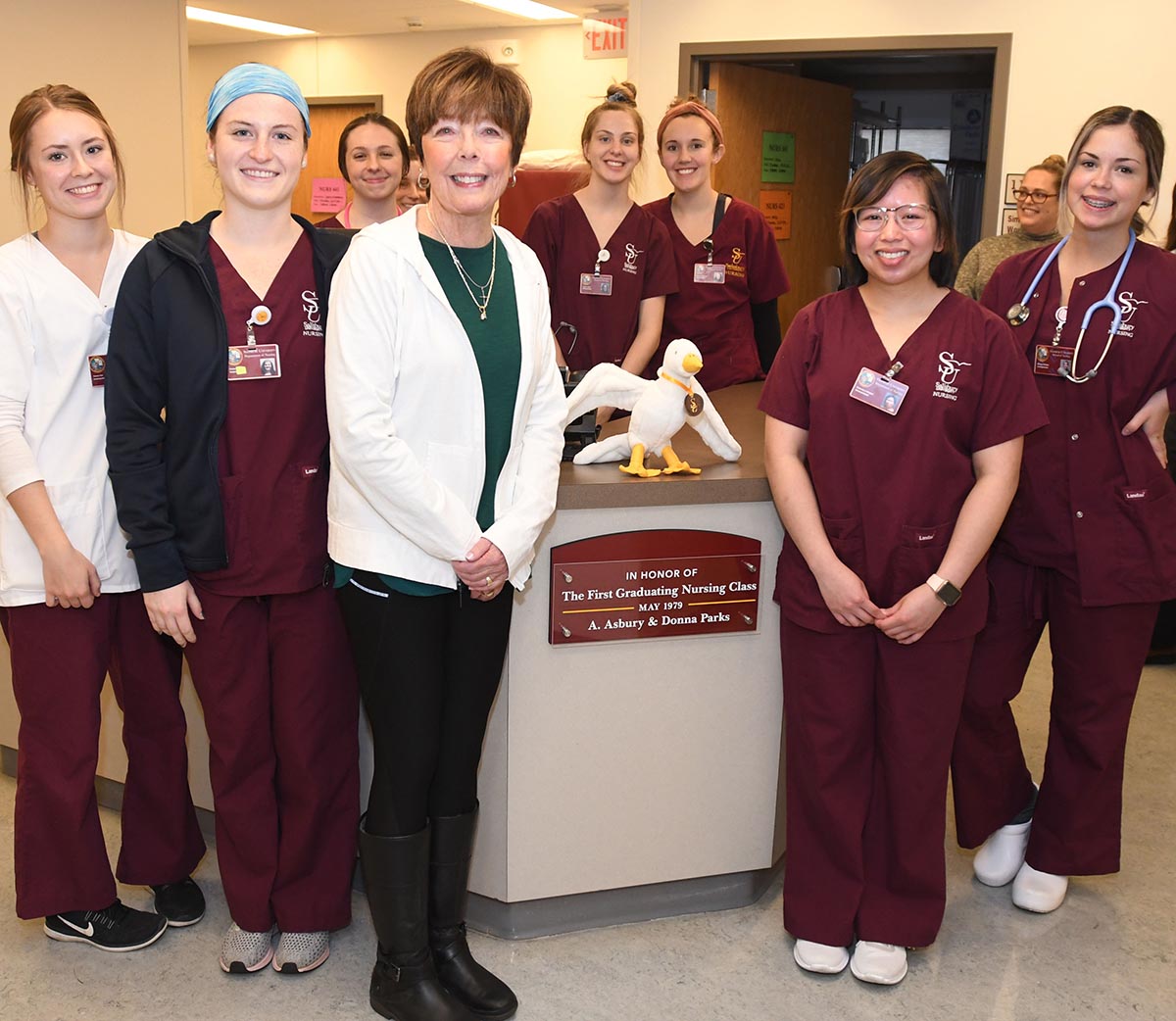 SALISBURY, MD---When Donna Parks earned her B.S. as a member of Salisbury University's first nursing class in 1979, she and her classmates learned from faculty with experience in the field using state-of-the-art equipment.
More than 40 years later, that methodology still works — but the technology is much more advanced. Today's students in SU's School of Nursing in the College of Health and Human Services (CHHS) spend countless hours working with lifelike medical manikins and other cutting-edge technology at the University's Richard A. Henson Medical Simulation Center.
Recently, Mrs. Parks paid tribute to her experience at SU with a $50,000 planned legacy gift from her estate in honor of the Class of May '79. A plaque at the center's nursing station commemorates the class, as well as Mrs. Parks and her late husband, A. Asbury Parks.
"My education at SU changed my life and afforded me the opportunity to live a life that I have truly enjoyed," the retired critical care nurse said.
Mrs. Parks began working in the medical field as an EKG technician, returning to college to pursue a pharmacy degree. After a frustrating chemistry course, she learned SU was launching a B.S. in Nursing program. Upon enrolling, she discovered nursing was her true calling. She hopes her contribution will benefit current students whose careers may be as fulfilling as hers.
"Nurses like Donna are an inspiration for our students," said Dr. Lisa Seldomridge, professor of nursing and director of the Henson Medical Simulation Center. "Her passion and dedication throughout her nursing career, spanning more than 30 years, is commendable. This generous gift will ensure her legacy and that of the Class of 1979 are not forgotten by those preparing to enter the field to which she devoted so much of her life."
"Mrs. Parks' gift will benefit not only nursing students, but those throughout the College of Health and Human Services and members of the greater Delmarva medical community who also use the Henson Medical Simulation Center for training," said Dr. Kelly Fiala, CHHS dean. "Her donation will help make it possible for a new generation of professionals to administer the patient care she exemplified for so many decades."
Founded in 2011, the Henson Medical Simulation Center has provided high-quality lifelike simulation experiences for students and community professionals, allowing those from different professions to work side-by-side in realistic scenarios.
Mrs. Parks' gift also helps support "We Are SU: The Campaign for Salisbury University," the largest fundraising effort in campus history. The $75 million initiative is helping the University transform tomorrow, shape success and create connections through funding for student scholarships and academic programs.
For more information call 410-543-6175 or visit the "We Are SU" campaign website.
SHARE