SU's Dockins-Mills Earns USM Regents' Staff Award
Friday September 20, 2019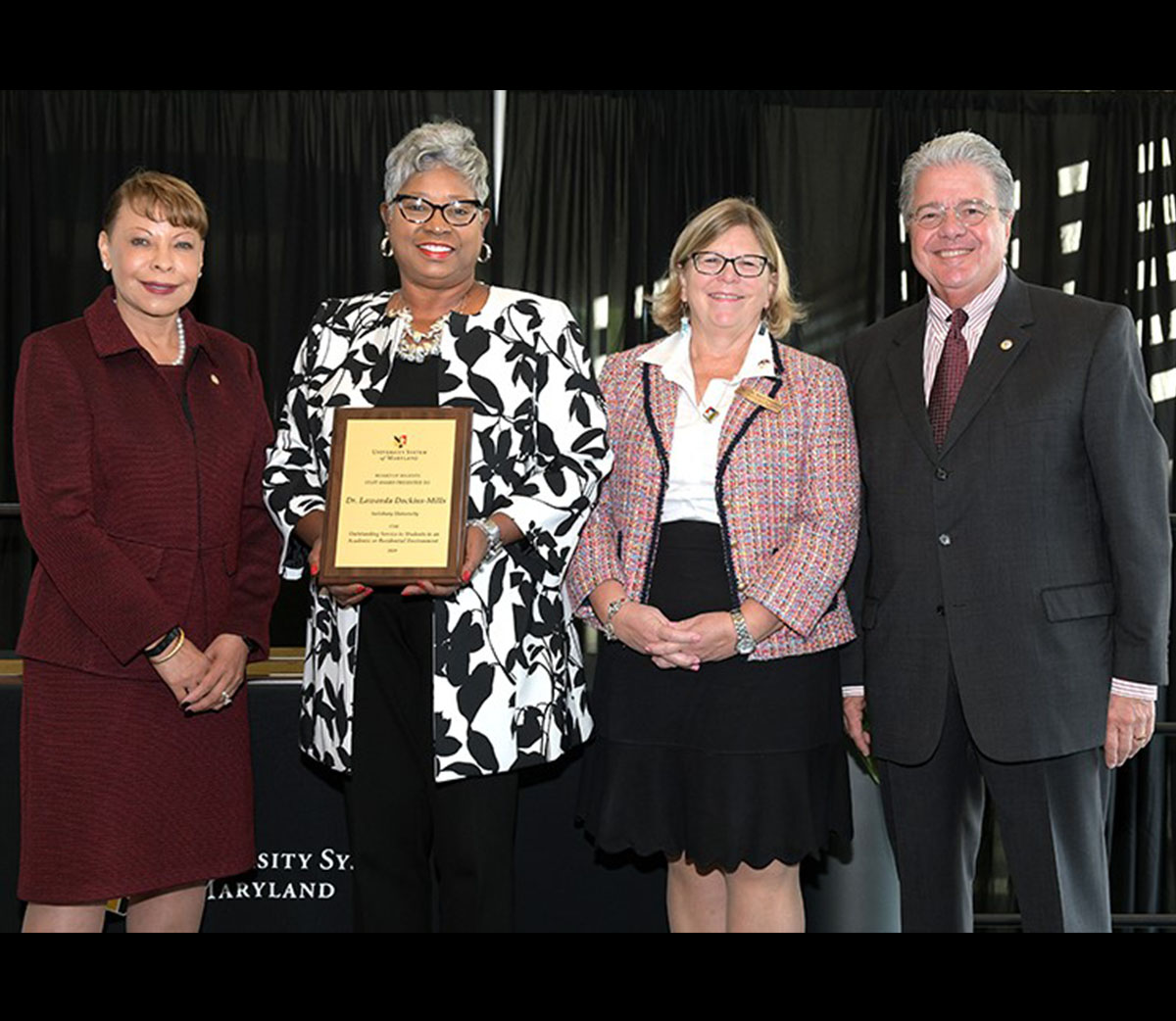 SALISBURY, MD---Dr. Lawanda Dockins-Mills, Salisbury University associate dean of students, has received one of the University System of Maryland's highest honors: the Board of Regents' Staff Award.
She earned the accolade in the "Outstanding Services to Students in an Academic or Residential Environment" category.
Dockins-Mills "has created and implemented countless programs … that support each of our students from far and near, making them feel welcome and appreciated while educating them about important qualities beyond the classroom to ensure their experience at SU is engaging and rewarding," said SU President Charles Wight.
One example of her successful approach to students is working to turn negative interactions off campus into teachable moments instead of treating them as disciplinary issues, better helping students understand their roles and expectations in the community, and rewarding improvement, he said.
Dr. Dane Foust, vice president of student affairs, said Dockins-Mills' professional oversight of the University's support for students, positive campus life and ability to engage alumni and the community surrounding SU exemplify the quality of her character and professional integrity.
"She is always a willing volunteer, has a positive attitude and is willing to go above and beyond whenever she sees an opportunity to connect. It is truly amazing to watch the number of alumni who come back to campus and make a trip to the student union to check in with Lawanda. This is a testament to what she means to SU and our students," Foust said.
Dockins-Mills provides leadership for SU's Common Ground door-knocking campaign, during which students canvas University neighborhoods to meet and provide information to SU neighbors; new student orientation activities; the Sophomore Year Experience, helping students continue their success into their second year at SU; and former New Student Reader Program, which provided incoming students with a shared academic experience at the beginning of their freshman year.
Vaughn White, SU director of multicultural student services, who nominated Dockins-Mills for the award, also lauded her service to students and the University.
"She possesses a passion for students, is an icon of integrity, a distinguished educator and educationally capable, and possesses outstanding leadership qualities, all worthy of emulation," he said. "Over the years, her unwavering devotion to the student body, the Student Affairs Division and the University have served to enrich the intellectual growth and experiences of all students, the University and the community."
Dockins-Mills serves as chair of SU's Neighborhood Compact Committee, co-chairs its Neighborhood Relations Committee and is a member of the University's Town-Gown Council.
She earned her Ph.D. in organizational leadership from the University of Maryland Eastern Shore. She also holds an M.Ed. in education administration and B.A. in communication arts from SU.
For more information call 410-543-6030 or visit the SU website.
SHARE