'Kiplinger's' Again Names SU Among 'Best Public College Values'
Friday August 9, 2019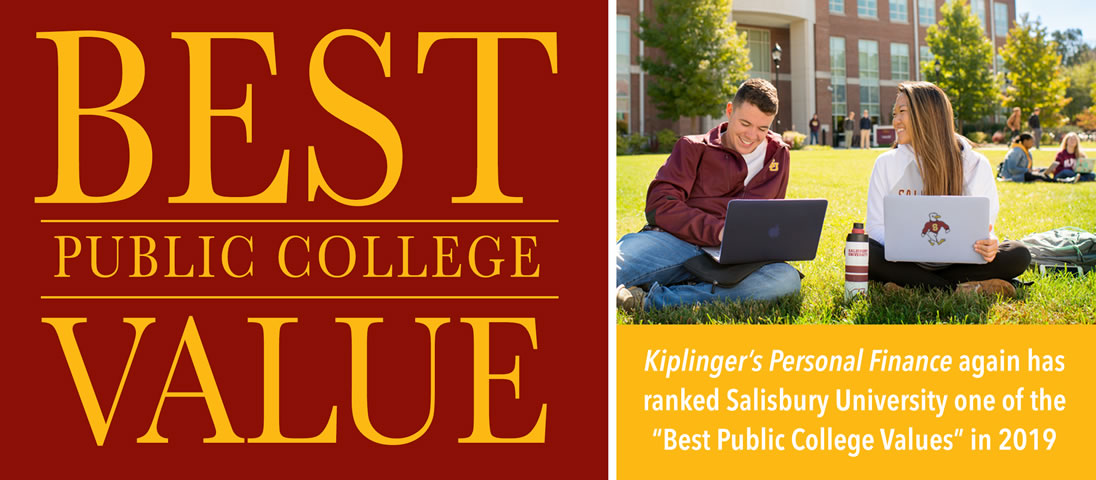 SALISBURY, MD---Kiplinger's Personal Finance again has named Salisbury University one of its "Best Public College Values."
Academic quality carries more weight than costs in Kiplinger's formula.
Among public colleges, SU is No. 61 based on out-of-state costs and No. 102 for in-state costs.
"We start by looking for schools with strong academics, including a competitive admission rate, a low student-faculty ratio and a record of getting students out of school on time," said Kiplinger's staff writer Rivan Stinson. "On the financial side, we look for schools with reasonable price tags, solid financial aid for students who qualify and low average debt among students who borrow."
"As we prepare for the 2019-20 academic year, we are thrilled that Kiplinger's once again has recognized the high-quality academic programs SU offers, as well as our great value for students and families," said Dr. Karen Olmstead, SU provost and senior vice president of academic affairs. "SU's continued recognition as a 'best value' speaks highly of the excellent educational experience our faculty and staff provide."
Institutions are ranked on factors, including admission, retention and graduation rates, student-faculty ratios, SAT or ACT scores, as well as cost and financial aid measures.
SU is one of only four University System of Maryland campuses included. The others are the University of Maryland, College Park; University of Maryland, Baltimore County; and Towson University. Leading the best values is the University of North Carolina at Chapel Hill. A full list of this year's public institution rankings is available at https://www.kiplinger.com/tool/college/T014-S001-best-college-values-college-finder/type/public#Tile.
For more information call 410-543-6030 or visit the SU website.

SHARE