Schlehofer, Seldomridge, Smith Receive 2019 Distinguished Faculty Awards
Wednesday August 28, 2019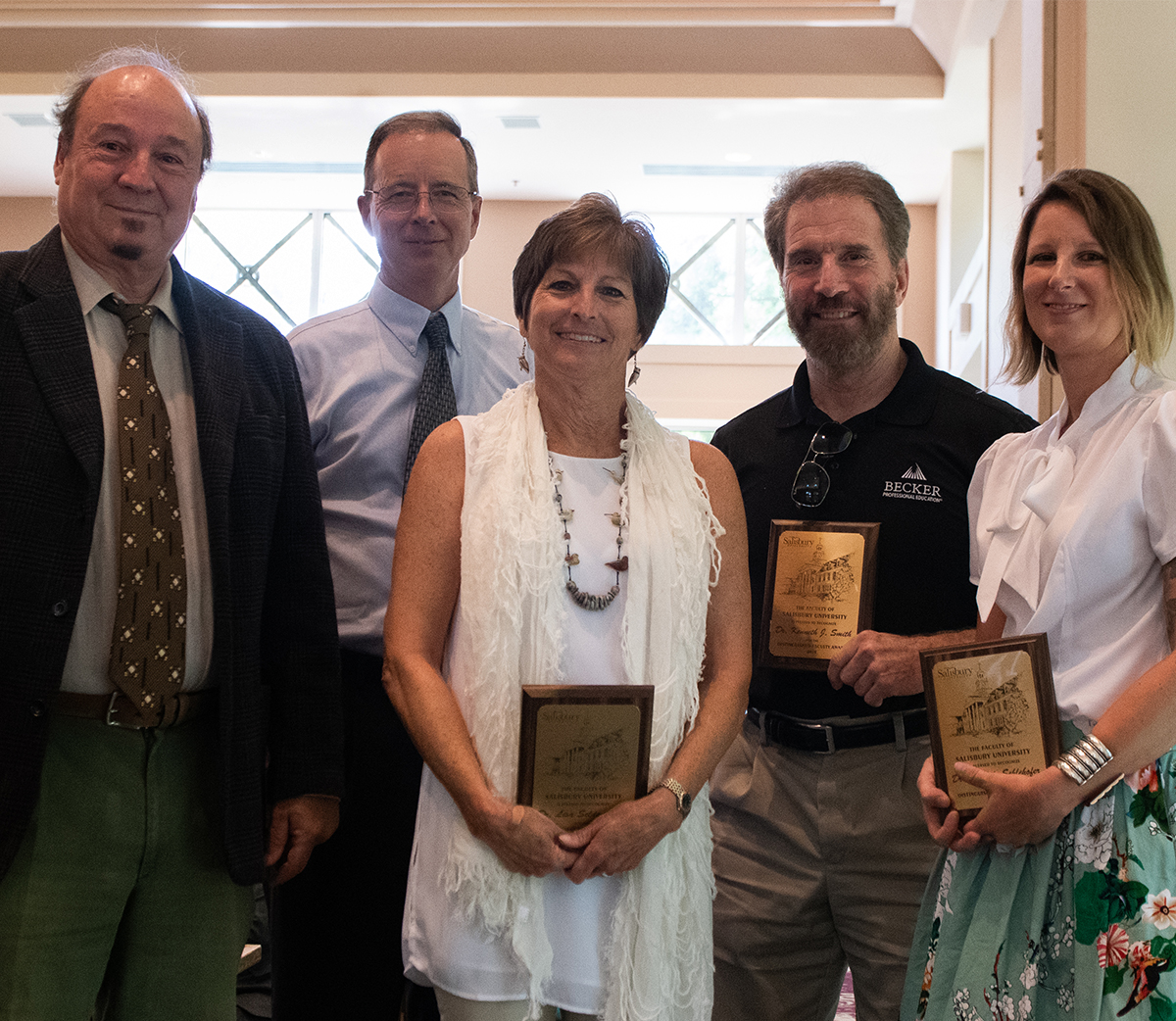 SALISBURY, MD---"A citizen psychologist" who demonstrates "more determination than a world-class athlete," "a strong leader and exceptional mentor" and "a heartfelt champion for students" — this is how colleagues described this year's Salisbury University Distinguished Faculty Award winners: Drs. Michèle Schlehofer of the Psychology Department, Lisa Seldomridge of the School of Nursing, and Ken Smith of the Accounting and Legal Studies Department.
The prestigious tribute is given by faculty to faculty.
Schlehofer earned praise for, among other things, "challenging students to think outside of their comfort zone." A past SU Outstanding Research Mentor Award recipient, she has guided 22 research students, resulting in multiple co-authored professional presentations and technical reports, and a peer-reviewed publication. The current chair of the Psychology Department, she also has been appointed twice for three-year terms as co-chair of American Psychological Association Division 44 (sexual orientation and gender diversity public policy committee).
Academically, she has multiple publications of her own in peer-reviewed journals and encyclopedias, as well as 17 technical reports on community projects including a local anti-bullying program and a Salisbury Human Rights Advocacy Council survey of the LGBTQ population on community climate. With a colleague, she has received three grants for work on LGBTQ issues. The founding executive director of Salisbury's PFLAG (Parents, Families and Friends of Lesbians and Gays) chapter, she also has been an active member of SU's Safe Spaces leadership team, evaluating 27 workshops across Maryland in 2018 alone.
Called "fair, honest and always a source of wisdom" by one of her former students, Seldomridge was the co-founder of SU's first doctoral program, the Doctor of Nursing Practice and founder of SU's Richard A. Henson Medical Simulation Center, which she currently directs after serving 13 years as chair of the SU Nursing Department and director of its graduate program for three years. Beyond SU students, the center is a resource for members of the regional medical community.
Seldomridge also is a "best practices" mentor for colleagues in health care simulation. Since 2015, she has received more than $6.5 million in grants to develop a clinical faculty training and mentorship program, create an information website and searchable portal focused on nursing education careers, design simulation-based experiences to teach communication and leadership skills, and conduct a statewide needs assessment on the nurse faculty shortage. Academically, she has presented at 27 regional, national and international conferences, and published seven articles in the past five years.
The recipient of multiple accolades for teaching excellence, including the Maryland Outstanding Educator and SU Alumni Association Faculty Appreciation awards, Smith was praised for his "flipped classroom" educational model that provides an "immersive, realistic portrayal" of work in accounting. He also has been involved in several programs to help students with job placement, including a "Meet the Firms" night to connect them with potential employers and opportunities for students to observe workers in the field.
In his nomination, Smith also was called "instrumental" in leading SU's Franklin P. Perdue School of Business during its successful initial bid for AACSB accreditation and a "driving force" for obtaining separate accreditation for the Accounting and Legal Studies Department, which he chairs. He also co-developed a certificate program in fraud prevention forensic accounting. Academically, he has published over 100 journal articles and in nearly 60 academic proceedings, and served as an editor, editorial board member and reviewer for multiple journals. In the community, he serves as treasurer of Lower Shore Enterprises, a non-profit organization providing opportunities for persons with disabilities.
Celebrating its 32nd year in 2019, the Distinguished Faculty Award has been bestowed upon 72 faculty. The names of this year's winners will be added to an honor roll listing all recipients since the award was established.
For more information call 410-543-6030 or visit the SU website.
SHARE