SU Faculty-Student Duo Studies Elephant Behavior Via GPS
Wednesday October 2, 2019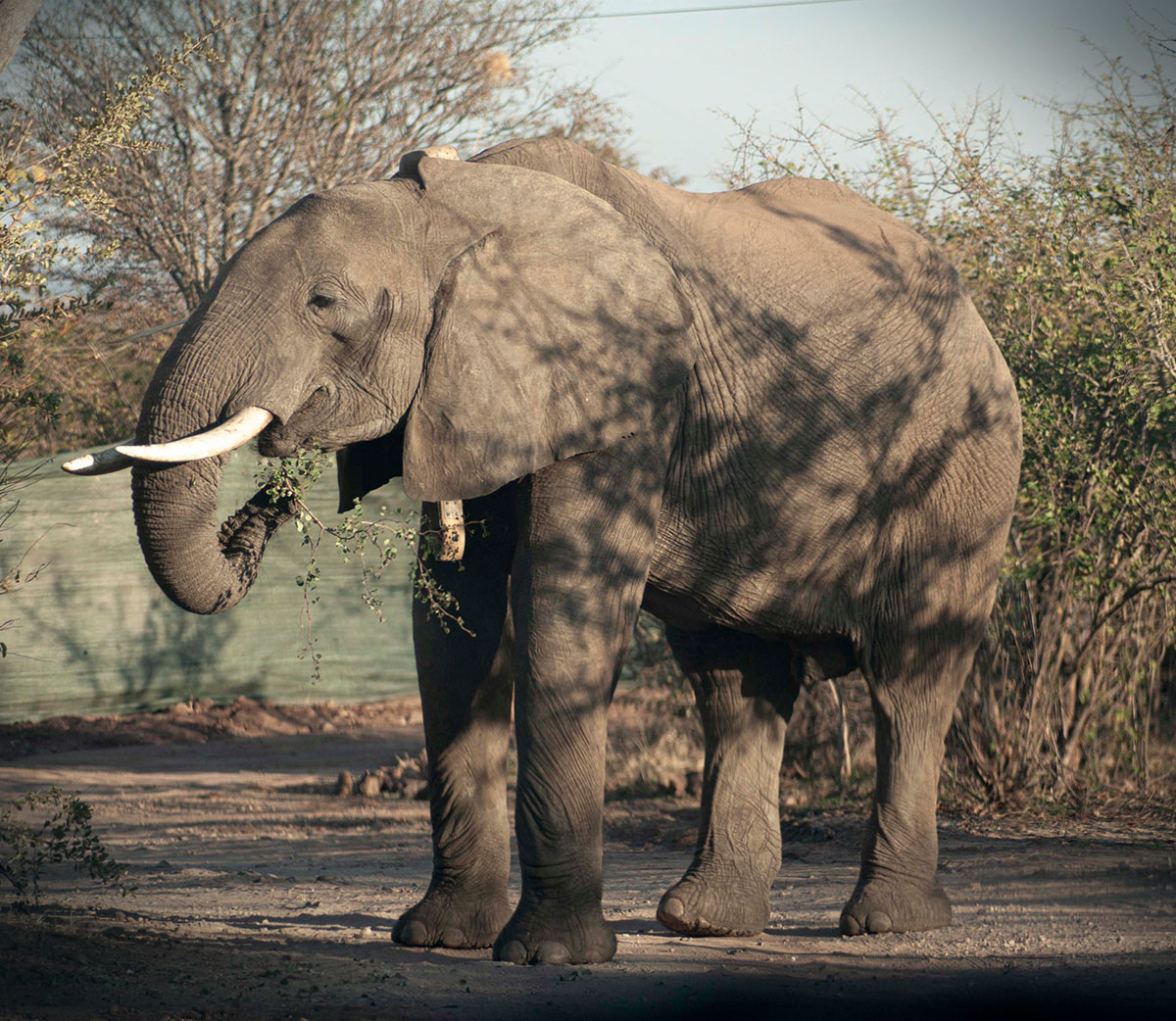 SALISBURY, MD---A faculty-student research duo at Salisbury University is trying to help people and elephants better co-exist in Africa.
"We are studying elephant movement," explained Dr. Andrea Presotto, faculty in SU's Geography and Geosciences Department. "In Zimbabwe, the elephants invade crops. They harm humans and humans harm them. So we are trying to figure out a way to share space and create a buffer between people and the elephants."
As part of a sponsored undergraduate research project, SU junior Trey Wehlan of Salisbury has been assisting her. Every month, they receive tracking data from their partner, Connected Conservation, which has placed GPS collars on elephants in the Kavango Zambezi Trans Frontier Conservation Area near Victoria Falls.
"Using geographic information systems, we can see where they are, how close they are to humans and the habitual paths they use," Presotto said. "We can see if they use the same routes every day or if they create shortcuts."
Wehlan, an interdisciplinary studies major in biology and geography/GIS, assists with data management and organization, and statistical analysis.
"The food resources that are located within the elephants' protected area may not be all they need, so they have to go out to other places, and that unfortunately leads to human-animal conflict," Wehlan said. "Using this GPS data we can identify areas the elephants are going that are a little too close to human populated areas. The park then can employ deterrents to try to avoid the elephants and people killing one another."
Using maps helps bridge language barriers with people in Africa, he added.
Presotto said their work focuses on understanding how animals navigate from a biological/ecological perspective and why the elephants are getting close to humans when it's harmful for them. (They are nomadic, so they also travel into Zambia and Botswana.)
Originally from Brazil, Presotto earned her Ph.D. from the University of Georgia. There, she crossed paths with a veterinary professor who was looking for a geographer with GIS skills to collaborate on an elephant project.
"If we all want elephants alive, our contribution is to try to figure out how to minimize conflict so people can live in a peaceful way with them," she said. "My dream is to have conservation plans so people and wildlife can co-exist."
Presotto spent 13 days in Zimbabwe this summer. Wehlan plans to return with her for a month next summer to further study elephant diets and food hotspots.
"SU has been very active in providing summer research opportunities and funding students," Presotto said. This allows professors to involve students in official capacities in bigger projects, she added, giving them a chance to see how research works and explore their own ideas. She also encourages her students to present at conferences.
"It's definitely a good opportunity to get hands-on experience in the field so I can be more marketable," said Wehlan, who hopes to pursue a master's in wildlife ecology. "With this project, there's a plethora of opportunities to grow as a person and as a student. I'm learning things I never thought I'd learn; I'm going places I never thought go. It is a humbling opportunity."
More than anything, Presotto said she hopes students will continue her work: "They are the next generation who can make a change in world, especially in this area of wildlife conservation."
For more information call 410-543-6030 or visit the SU website.
Note: SU is not directly involved with the capture or collaring of elephants. However, all appropriate animal care and safety measures are assured by partners.

SHARE