SU Opens New Student Career Closet
Wednesday September 19, 2018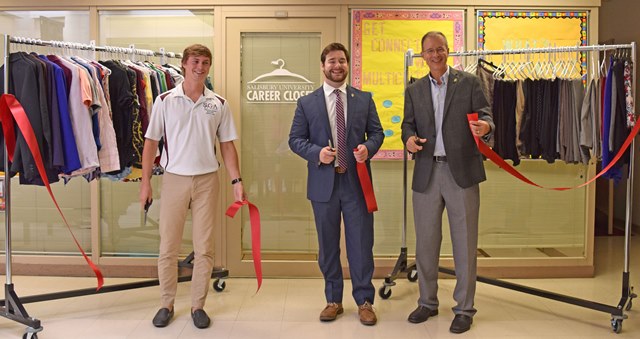 SALISBURY, MD---T-shirts, hoodies, jeans and yoga pants are de rigueur for most college students — but those fashions don't quite cut it in the business world.
Enter the new Salisbury University Career Closet.
An initiative of the SU Student Government Association, the new program allows students to borrow professional clothing to wear for job interviews and career fairs. The target audience is those who may not have thought to bring their best clothes with them to campus or who may not be at a point in their early or pre-careers where they feel comfortable paying for high-end professional wear.
"We looked at other campuses and discovered that some have had programs like this for 18-20 years," said Tasneem Elbashir, SGA marketing and communications director, who, with her predecessor, Tristan Marino, proposed the initiative to SU officials last academic year.
Students wishing to borrow clothes from the closet first must have their resumes reviewed by the Career Services Office, Guerrieri Student Union Room 133. With resume approval, they may borrow up to four items from the closet. Afterward, students will be expected to return the items, which will be washed and placed back into the closet for others to borrow.
Elbashir thanked Dr. Lawanda Dockins-Mills, associate dean of students, who helped secure initial funding for the program. Additional support will come from the SU Class of 2018 senior gift. More than $2,000 raised by the graduating seniors will be used to buy new clothing. Donated clothing meeting the project's standards also will be accepted through the SGA, Career Services Office and Center for Student Involvement and Leadership.
The Career Clothes Closet is located in Guerrieri Student Union Room 242C.
For more information call 410-543-6075 or visit the SU website.