$250,000 Endowment Establishes Victor H. Laws Jr. Scholarship at SU
Tuesday May 29, 2018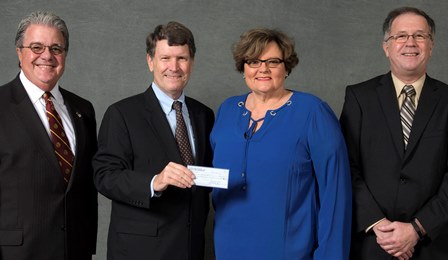 SALISBURY, MD---For more than 65 years, the late Victor Laws was a prominent leader in the Eastern Shore's legal community.
Thanks to a $250,000 endowment from his estate, students from Salisbury University will have help becoming part of that community, as well: The Victor H. Laws Jr. Scholarship will be available annually to junior and senior pre-law students, with preference given to Shore residents.
"The Laws family have been long-time friends of Salisbury University," said SU President Janet Dudley-Eshbach. "Vic Laws, an alumnus who made such a difference in the community, represented a generation of lawyers as public servants. His gift to assist the attorneys of tomorrow from the Eastern Shore is indicative of the character and generosity he so greatly exhibited during his lifetime."
"Dad was always quick to trace his success in life back to the education he received at Salisbury University, which was still in its infancy when he entered in 1935. The University was second only to his parents in developing a natural curiosity that made Dad a lifelong learner and achiever," said Victor H. Laws, III. "It's so fitting that Dad now can repay the favor by helping future generations of SU students reach their goals through this scholarship."
"I find it appropriate that Mr. Laws, an attorney, chose to support his Alma Mater in this manner through an estate planned gift. My thanks to his sons, Vic and Jerry, for helping facilitate this gift to have an immediate impact on our students," said Jason Curtin, vice president of advancement and external affairs and executive director of the Salisbury University Foundation, Inc.
When Laws died in February 2017 at age 97, he left behind a longstanding legacy on the Delmarva Peninsula. A 1935 graduate of Wicomico High School, he attended SU (then a state teachers college) for two years before transferring to the University of Maryland, College Park, and the University of Maryland School of Law, where he earned his joint law and bachelor's degree. In his 1990 book, Maud and Other Family Legends, about his parents and life in rural Wicomico County, he credited a conversation with Dr. T.J. Carruthers, dean of students and later interim president of SU, with inspiring him to pursue his interest in law.
Following admission to the Maryland Bar, he began his legal career in Salisbury in 1941 with the firm of Miles, Bailey and Clark. The next year, he moved to Baltimore to work for the firm of Miles and O'Brien before serving three years in Europe with the U.S. Army Signal Corps during World War II.
Laws continued to work with the Baltimore firm, by then known as Miles & Stockbridge, for 12 years after returning from military service, culminating as a partner in the firm. According to his sons, one of his most memorable assignments was tracking down minority stockholders in the St. Louis Browns Baseball Club and convincing them to sign over their shares so the team could be moved to Baltimore, where it was rebranded as the Orioles in 1954.
He moved back to Salisbury in 1957, working in association with various attorneys until forming the firm of Laws and Laws, PA, with Victor III and daughter-in-law, Jean, in 1984. He remained there until his retirement in 2011.
As an attorney, Laws was vice president of the Maryland Bar Association. He also served 16 years, including 13 as chair, as a trustee of the Maryland Court of Appeals' Client Protection Fund. The CPF protects the public by reimbursing victims of fraud or misappropriation by unscrupulous attorneys.
His first foray into politics came in 1960, when he was appointed city solicitor of Salisbury. He was elected to public office in 1962 as a member and later chair of the Wicomico County Democratic Central Committee.
He then served as an elected member of the Wicomico County Council from 1974-1986 and from 1990-1998, including terms as president and vice president. There, he became the first council member to propose an annual county appropriation for volunteer fire companies and was a long-time advocate of amending the county charter to establish a county executive form of government, which was ultimately adopted by the voters in 2006.
Laws also was active in the local real estate industry, working on projects including the Waverly and Waverly Plaza shopping centers, Downtown Salisbury office buildings, Riverside Pines subdivision, Ocean Resorts Golf Course and several Ocean City, MD, condominium developments, among others.
As a philanthropist, he supported organizations including the Salvation Army Richard Hazel Youth Club, Community Foundation of the Eastern Shore and Peninsula Regional Medical Center. He was generous to his church and to higher education, including Wor-Wic Community College and the University of Maryland's Francis King Carey School of Law, as well as SU.
He received several local and state honors, including the Maryland Bar Foundation's Legal Excellence Award for the Advancement of Public Service Responsibility.
The inaugural Laws Scholarship is expected to be given in 2019.
For more information call 410-543-6030 or visit the SU website.
SHARE