Seidel School Celebrates PDS Partners During American Education Week
Friday November 9, 2018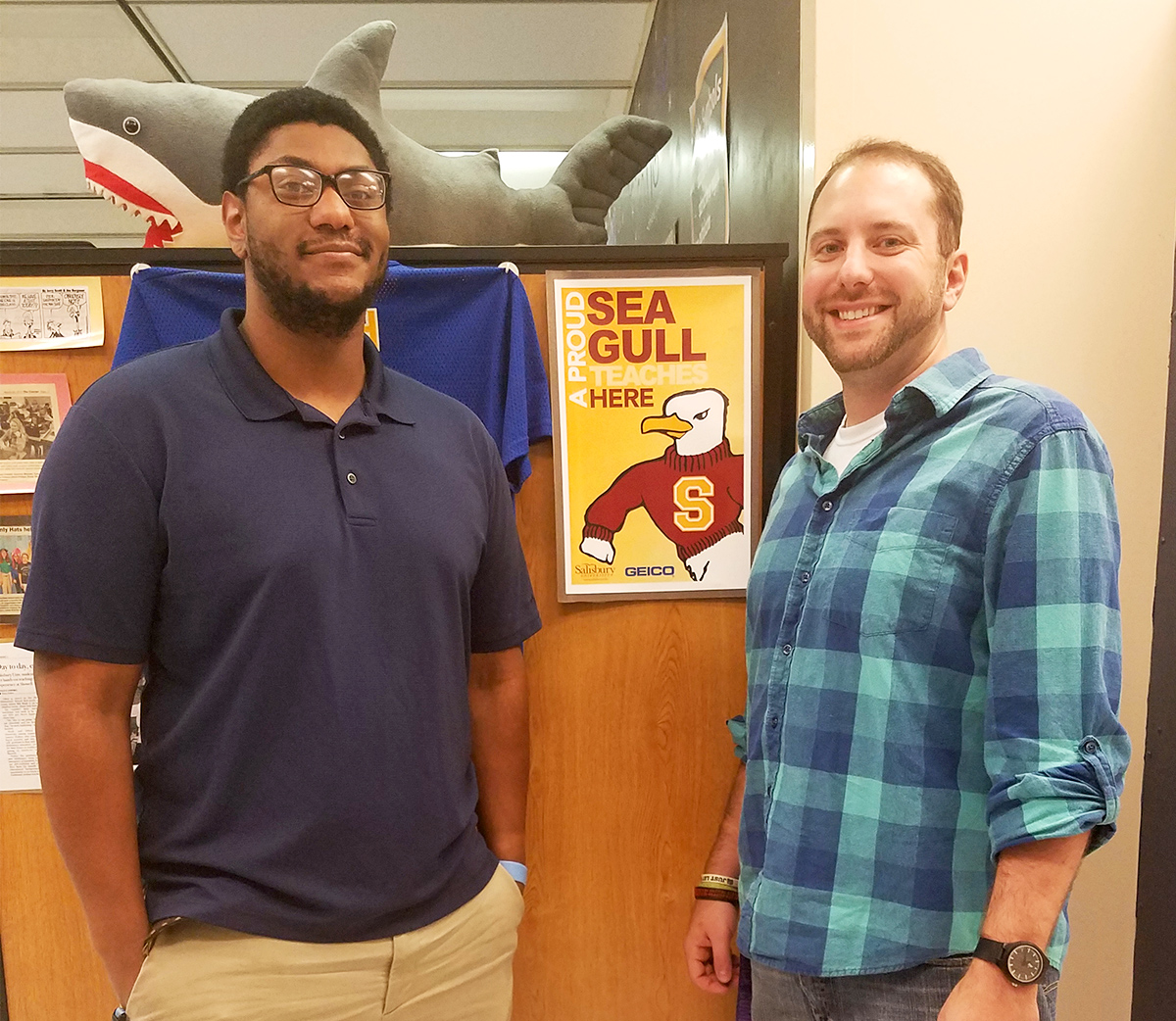 SALISBURY, MD---Students, parents and visitors who walk into more than 40 public schools across the region are greeted by a banner that reads: "We Are Proud to Partner with Salisbury University in Preparing Future Teachers."
The schools are part of SU's Professional Development School (PDS) Network, which helps train hundreds of teacher candidates annually.
"My mentor has helped me by providing authentic experiences each day in the classroom," said senior Trevor Newsome, a math intern at Berlin Intermediate. "I am able to go through a normal day of teaching while still having a safety net."
Senior Gloria DePase, an intern in second grade at Beaver Run Elementary, said her mentor provides immediate feedback and has helped her organize plans and develop ideas for working with children. "She is a great example of a teacher," she added.
This semester alone, SU has nearly 550 teacher candidates in schools, including full-time interns, and students in methods and foundational courses. Current PDS partners span seven counties: Wicomico, Worcester and Somerset on the Lower Shore, as well as Caroline, Dorchester, Talbot and Anne Arundel.
"Our campus has a rich history in educator preparation," said Dr. Laurie Henry, who became dean of the Seidel School of Education in July. "Our roots began in training teachers for rural classrooms, and now, more than nine decades later, we are helping to address the most pressing, complex issues facing education today."
A former middle school teacher, Henry came to Salisbury from the University of Kentucky's College of Education. As part of the American Association of Colleges for Teacher Education's Clinical Practice Commission, she is active in a national movement that emphasizes collaborating with local schools to create learning laboratories. Recently, the group called for a common lexicon, or vocabulary, to be used in the field.
"Clinical practice and thriving partnerships are central to high-quality teacher preparation," Henry said, adding that SU offers both. "We celebrate all of our regional partners during this year's American Education Week."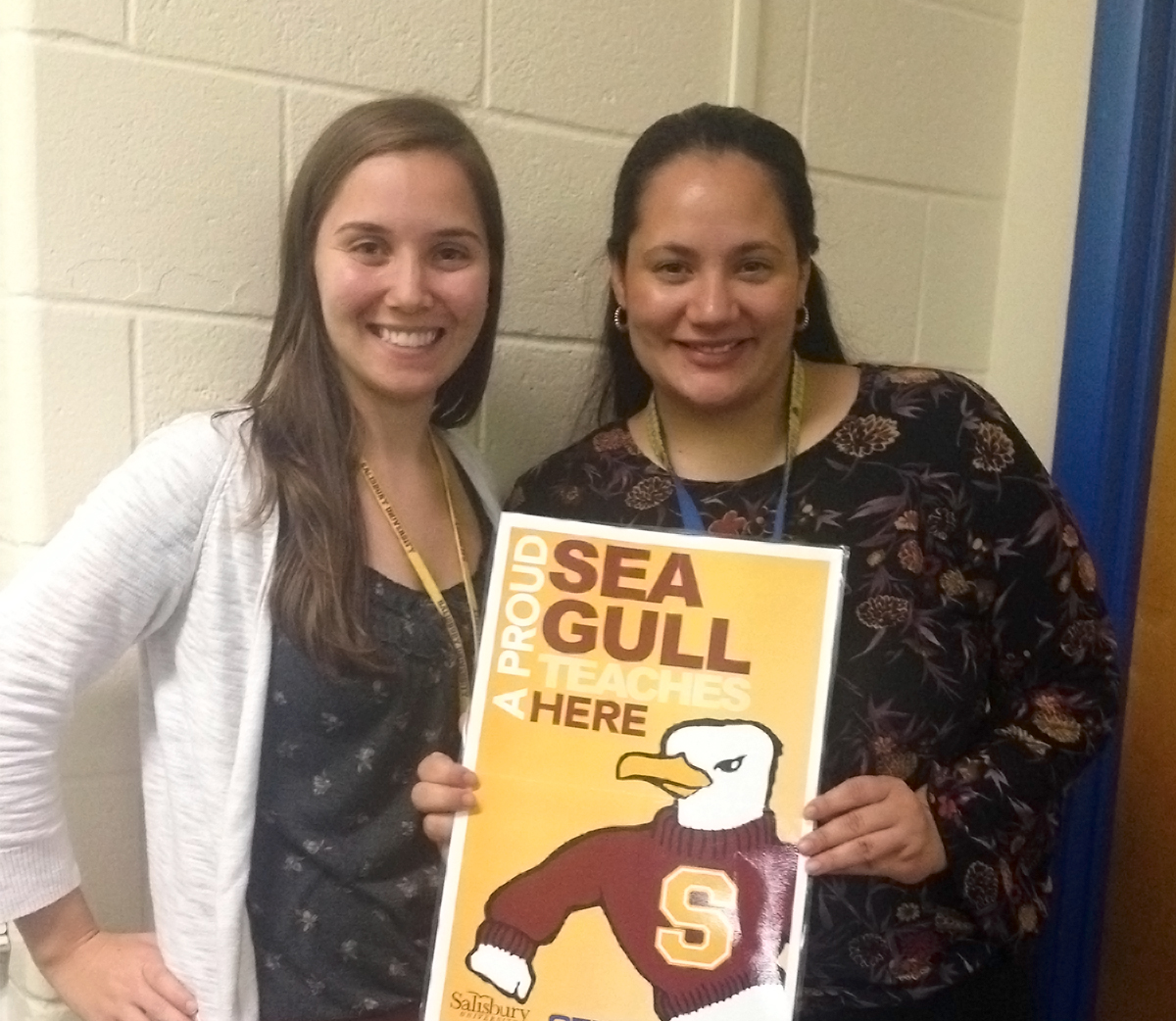 "I am a part of the PDS network because of what SU has done for me!" said Valerie Folsom, a two-time graduate who became a teacher at Beaver Run, where she previously interned. "My classroom now becomes a place that facilitates growth, as SU students connect and apply their coursework to truly learn by doing and reflecting."
The National Association of Professional Development Schools (NAPDS) has honored SU five times in 10 years. According to Seidel faculty, Salisbury is the only non-research one university to have nationally recognized PDS partnerships at the elementary, middle and high school levels.
In 2009, SU's teacher education program earned the Spirit of Partnership Award. Then NAPDS bestowed its Exemplary PDS Achievement Award for partnerships with Worcester County schools in 2011, Mardela Middle and High in 2015, and Snow Hill Elementary in 2017. An SU teacher candidate also was named an Emerging PDS Leader last spring.
Students are aware of these accolades. DePase said: "I chose SU's education program because of its reputation. I had heard many good things from people who had gotten jobs right after graduation."
Two-time graduate Bill Noah, a math teacher at Berlin Intermediate, said he would not have set roots on the Eastern Shore if it weren't for the University.
"I credit SU for getting one of the best jobs I could have asked for," he said. "From what I have seen, students who come from SU are well ready for the classroom."
"The experience they get is realistic," said Snow Hill teacher William Tignor, a two-time graduate and current doctoral candidate who has been mentoring SU students for 14 years. "When they see results from their hard work, it is magical."
The University's Office of Alumni Relations started providing Seidel graduates with classroom posters that say "A Proud Sea Gull Teaches Here" in 2016. Since then, it has sent more than 570 to alumni educators across Maryland and in other states.
"We love seeing the posters when we are visiting schools," said Sara Elburn, SU's PDS coordinator. "Many teachers post where they earned their degrees, and our graduates usually eagerly hang their posters at their classroom doors. All of their students see that they went to SU to become a teacher!"
Senior Hayley Dize, a native of Allen, MD, said she wants to teach to give children hope, inspiring them "to value themselves and to be proud of what they can do."
"I would love to find a job somewhere on the Eastern Shore so I could give back to the counties that shaped my education," she added. With growing teacher shortages, that's something local boards of education like to hear.
For more information about programs and degrees, visit the Seidel School of Education website.
SHARE