Monday, April 25, 2016
2016 SU Relay For Life Tops $120,000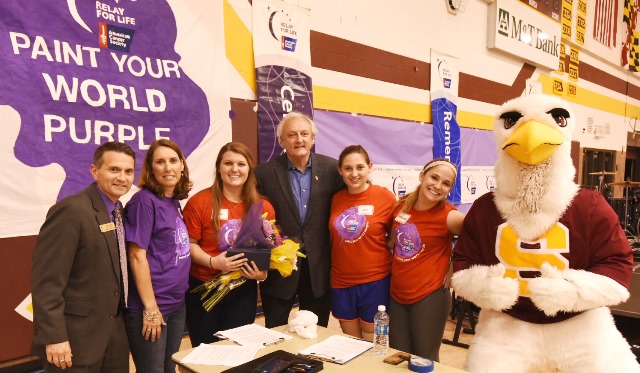 SALISBURY, MD---Some 63 teams representing over 1,500 students, faculty, staff, families and community members participated in Salisbury University's 2016 Relay For Life, held April 22-23.

Team campsites reflected different cartoon TV shows while carrying out this year's theme of "Toon in for a Cure." Senator Jim Mathias joined student co-chairs Siena Manoogian and Carly Berkowitz for opening ceremonies. Guest speakers included Dr. T. Greg Prince, SU vice president of advancement and external affairs. So far, teams have added over $120,400 to the prior cumulative total, bringing SU's cumulative donations to over $1.2 million.

"It's an amazing thing to see everyone come together for one night and it helps show others that our school is something special," said Manoogian. "We are a force that can't be reckoned with and a community that stands together."

The ACS is a community-based organization dedicated to eliminating cancer through efforts such as Relay For Life, which in the past two decades has spread to more than 4,500 U.S. communities and 12 foreign countries.

Donations are still being accepted. To contribute, visit www.relayforlife.org/sumd.