Monday, January 11, 2016
14-Year-Old Guitarist Junhong Kuang Performs at SU Feb. 2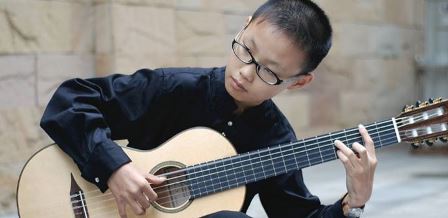 SALISBURY, MD---Chinese guitarist Junhong Kuang has received a standing ovation at Carnegie Hall and given the opening concert at the acclaimed International Guitar Symposium in Iserlohn, Germany … and he's only 14!
Kuang performs at Salisbury University 7 p.m. Tuesday, February 2, in the Great Hall of Holloway Hall. The 2011 Thailand International Guitar Competition winner (at age 10) has made an impact on the international guitar world in just a few years, earning similar ovations at concerts in Shanghai and Beijing. He studies with Manuel Barrueco at the Peabody Institute at Johns Hopkins University.
Sponsored by the Cultural Affairs Office, admission is free and the public is invited. For more information call 410-543-6271 or visit the SU website at www.salisbury.edu.