The SU Libraries MakerLab offers much more than just 3D printing. You can see the many different types of equipment we have below. MakerLab staff are on hand at all times to help you with all of this equipment. If you have any questions, or if you would like to suggest equipment for us to investigate for the future, feel free to stop by the MakerLab or contact us at makerlab@salisbury.edu.
While many of our services are provided free of charge, some do require payment. These are mostly services that require the use of materials provided by the MakerLab. You can see a full breakdown of our prices on this price sheet.
3D Printing
We have several different types of 3D printers available. If you are unsure of what would work best for your project, we are happy to provide a consultation. We also have a guide to getting started with 3D printing available!
3D Printing Materials
We currently have several different colors of filament available in PLA plastic, as well as a photoreactive resin for our SLA printer (Form 2). In addition, we have PVA filament that dissolves in water to print support structures using our Ultimaker 3 dual extrusion printer.
At this time we do not allow visitors to use their own filament or resin with our printers. If you have a need for a special type of printing material, please let the MakerLab staff know and we may be able to acquire the necessary materials for you.
| Printer | Type | Available Colors |
| --- | --- | --- |
| LulzBot Taz 5, LulzBot Taz 6, Ultimaker 3 | PLA | Black, White, Gray, Red, Orange, Yellow, Green, Blue, Purple, Silver, Gold, Brown, Cream, Maroon, Light Blue, Lime Green, Pink, Teal, Dark Gray, Natural, Glow in the Dark |
| Ultimaker 3 | PVA | Natural |
| Formlabs Form 2 | Resin | Black, White, Gray, Clear |
In addition to the colors above, several colors of PLA are also available by request. If you need one of these colors, just let us know and we will order the material for you and let you know when it arrives. Colors available by request include: Bronze, Fluorescent Green, Fluorescent Pink, Fluorescent Yellow, Lavender, Light Pink, Mint, Olive, Tan, Translucent Blue, Translucent Gray, Translucent, Green, Translucent Orange, and Translucent Red.
VISIT OUR VENDOR'S WEBSITE FOR EXAMPLES OF ALL AVAILABLE PLA COLORS
3D Scanning
We offer a handheld scanner for scanning larger objects but with less detail, and a high-definition stationary scanner for high detail scans of smaller objects.
Laser Cutting & Engraving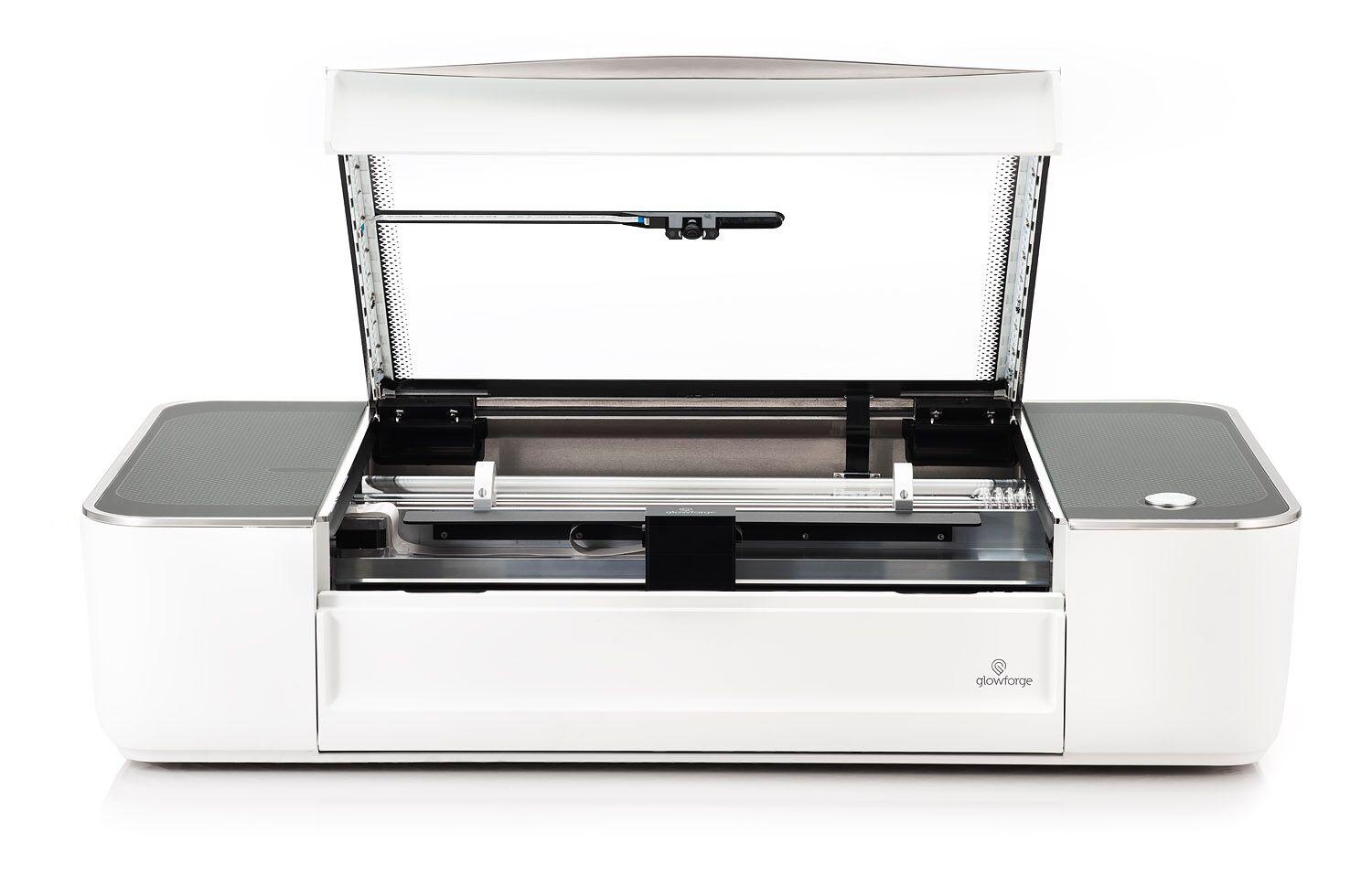 The Glowforge Laser Cutter/Engraver allows cutting or engraving of materials such as plywood, acrylic, leather, and more. You can create engraving and cutting patterns using a variety of methods, from scanning printed images to creating custom cutting patterns using vector image software.
If you are interested in using this device, visit the MakerLab or contact us to learn about its requirements and limitations. Note that we prefer you to use materials provided by the MakerLab; we will evaluate other materials on a case-by-case basis.