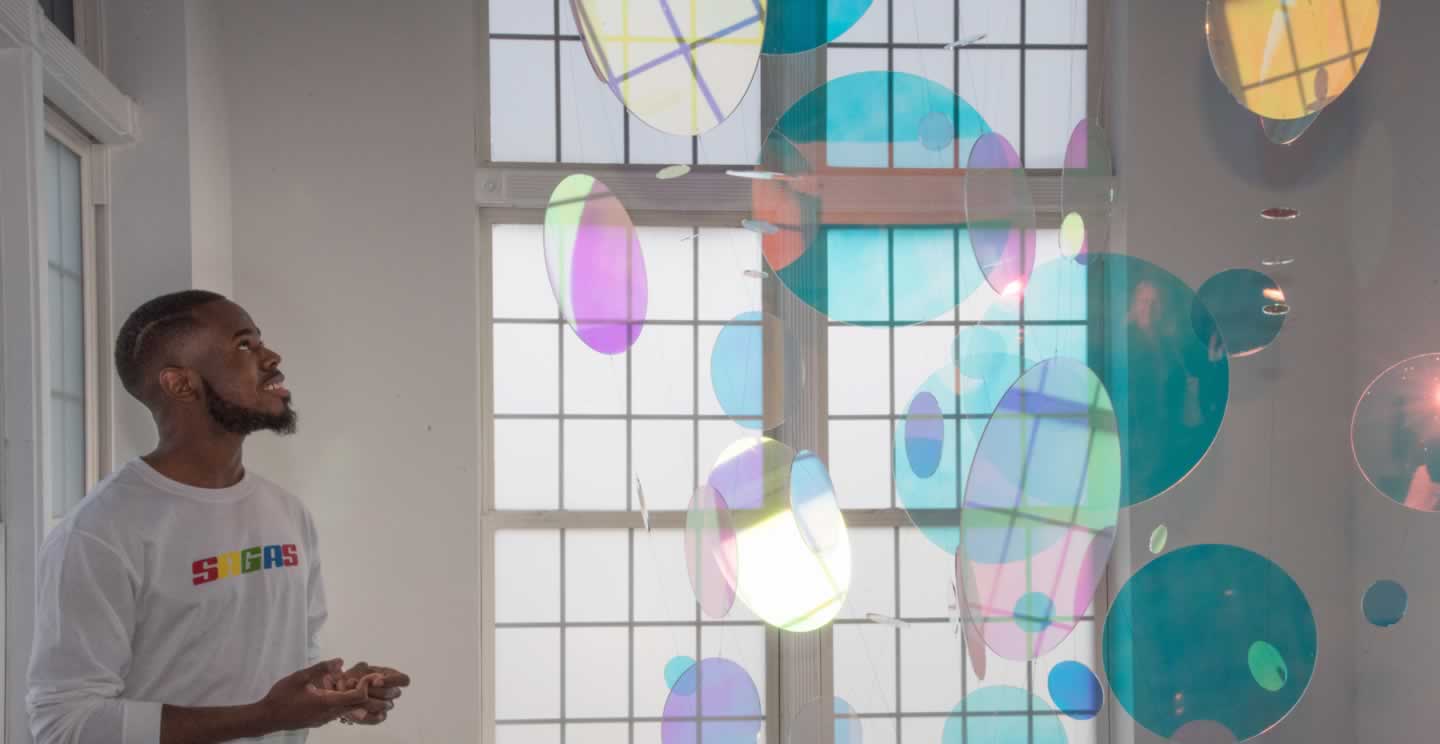 Art (B.A. and B.F.A.) Major
Turn your passion into a profession at Salisbury University. In our art program, you will grow as an artist, but you will also be able to think, talk and write about what you do and how it relates to the world around you. Our faculty will work with you to chart a creative career path full of promise, so you can have the job you've always dreamed of.
Why Choose an Art Major at Salisbury University?
At SU, we give lots of personal attention to developing your creative skills and vision. We are unique from other art programs across the country in that you will find:
Intense studio experiences. Unlike many schools, art students at Salisbury take fewer, more intensive studio art and design courses, meeting a high level of technical standards. They spend more time creating artwork for their portfolios and interacting with teachers and classmates. The culmination of the program are the senior art shows, where you take the lead in the planning and execution of a professional art exhibit.
One-on-one interaction with faculty. Studio classes are small, so students are able to work closely with faculty mentors. With the guidance of our professional faculty, our students have an outstanding record of acceptance into jobs and graduate programs.
Exceptional facilities. Our Integrated Media Center features a fully equipped digital photography, Macintosh studio and printing lab. We boast the only on-campus hot glass shop in the state and recently opened a large studio dedicated to 3D art creation.
An enhanced curriculum. We organize exhibitions of video, animation, sound art and other new, electronic media on campus. The Art Department also takes trips to Washington, D.C., Baltimore, Philadelphia and New York City so students can visit museums and galleries.
Visiting professionals. We host several professional artists every semester, including graphic designer and poster artist John Foster and Mark Amerika, a leader in Remix Culture.
Art and design, together. At some schools, art and design have gone their separate ways, but not at SU. We require our art majors to take electives in other areas of the department. We have heard repeatedly from visiting professionals that the diverse problem solving students experience in a program like ours makes them more effective artists and designers when they go out into the world.
Professional internships. We have developed relationships with more than 100 local and regional businesses with internship programs, and a lot of our partnering internship businesses are in nearby metropolitan areas like Baltimore and Washington. Students often tell us that their internship experience was extremely important in the transition from student to working designer.
Art Degrees
At SU, art majors have their choice of earning either a Bachelor of Arts (B.A.) or Bachelor of Fine Arts (B.F.A.). Both art majors specialize in an art track. The primary difference between the two degrees is the number of art classes each requires.
Careers for Art Majors (B.A.)
Your future is a blank canvas. With a Bachelor of Arts, seize your creative energy to become anything from an illustrator to art historian. With an arts education at Salisbury University, you could become one of the following:
Animator
Costume Designer
Fashion Designer
Gallery Operator
Makeup Artist
Museum Curator
Web Designer
Careers for Art Majors (B.F.A.)
A Bachelor of Fine Arts can add a splash of color to your life, with endless possibilities for a career in the creative field. From the studio to the set, you could find yourself in one of the following positions:
Art Director
Art Therapist
Graphic Designer
Illustrator
Interior Designer
Photographer
Set Designer