Calendars & Events
Salisbury University is committed to providing educational and cultural opportunities for the campus and community! From arts to athletics, concerts to lectures, we offer a diverse and inclusive variety of events all year.
For more event listings visit our master calendar page.
Sun
Mon
Tue
Wed
Thu
Fri
Sat
---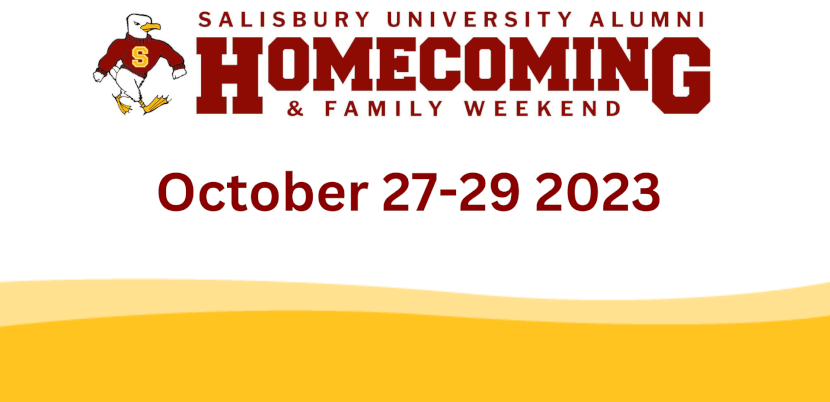 Current Exhibits
---
Calendar Contact Information
Contact Information
Public Relations Office
Holloway Hall (HH) 140
---
Attending Events at Salisbury University
Salisbury University's campus has many exciting events happening all year long including lectures, concerts, films, plays, athletic events, performing arts, exhibits and more. If you are new to Salisbury University, view our campus map to find the location of your event.
Arts and Culture Events
A thriving center of performing arts on the Eastern Shore of Maryland, SU offers a wide range of arts and cultural events. They include theatre performances, films, dance concerts, debates, lectures and workshops, as well as theatre productions and art exhibitions.
Athletic Events
Suseagulls.com is the place to find out about all Salisbury University athletic events. In addition to athletic schedules and team information the website also contains ticket and facility information.
Purchasing Event Tickets
Arts Events
The Department of Music, Theatre and Dance proudly produces many student, faculty and community performances every year. These performances are open to the University and community.
All Music, Theatre and Dance events at Salisbury University require tickets (even for free events). Tickets can be purchased through the Performing Arts Box Office.
Salisbury University Art Galleries
The Salisbury University Art Galleries [SUAG] is one of the few venues on Maryland's Eastern Shore to experience world-class contemporary visual art. Stimulating, year-round programming delights the senses and opens minds. Featured are accomplished artists from around the world, and local and regional artists that challenge conventions. Artwork at SUAG celebrates new technologies, unconventional approaches and interdisciplinary attitudes.
For more information about exhibits and upcoming shows visit the SUAG website.
Athletic Events
Salisbury University charges admission to basketball, football and men's lacrosse games. All tickets are general admission, non-reserved, and are priced as follows:
General Admission - $7.00
Non-SU Students/SU Alumni - $5.00
Children (Ages 5-12) - $3.00
Children (Under Age 5) - FREE
SU Students, Faculty, Staff - FREE with valid ID
Gates open one hour prior to the scheduled start time.
Tickets for football and lacrosse can be purchased at the Sea Gull Stadium ticket booth. Basketball tickets are sold in the lobby of the Maggs Physical Activities Center.
* Unless otherwise noted there are no advance sales for any home games
Suite Rental Information: Click here
Groups: If you are in charge of a group and would like to inquire about group tickets, please contact Jess Stoltz, the assistant to the Athletic Director, at 410-543-6027 or jrstoltz@salisbury.edu.
Playoff Games: When Salisbury hosts NCAA tournament games, prices of admission do vary depending on the sport. There is no free admission for those games. Any special events and national championship ticket information will be posted here as needed.
For more information visit the SU Sea Gulls website.
Venues
Salisbury University events happen at several different locations on campus. Performing Arts and cultural events venues include the Black Box theater, The Great Hall, Holloway Hall Auditorium as well as the SU art Galleries. Information about athletic event facilities can be found on the SU Sea Gulls website.
Visitor & Event Parking Information
In order to make sure you find parking close to your event location, please see the parking lot map. Visitors must register for a Visitor Parking Permit. The pass may be obtained free of charge online through the Parking Portal.